"Triple Shot Espresso.  Not one, not two, but three shots of the finest Italian Espresso are infused into Three Olives Vodka to create the ultimate expression of coffee.  Taste the chocolaty notes gained from using only the finest selection of imported roasted beans – drink on the rocks, as a shot or in your favorite martini."
This is what Three Olives Vodka has to say about one of their three newest infused vodkas just released in June 2007.  Being the pure coffee drinker that I am (no cream, no sugar, give me the strongest you have please), I could hardly wait to get my hands on a bottle the Three Olives Triple Shot Espresso.  Until now Van Gogh's Double Espresso Double Caffeine Vodka has been the ruling dark coffee vodka on the market.  Since both brands have flavor infusions that appeal to me, I thought it would be interesting to see how they compared. 
I must confess here and now, chocolate does not rank high on my list of desirable indulgences.  In a side by side tasting between Three Olives Triple Shot Espresso and Van Gogh Double Espresso Double Caffeine, the difference is easy to pick out right away.  Three Olives Triple Shot Espresso has a richer, deeper color than the Van Gogh.  In regard to taste, the variation is in the chocolate. 
Three Olives Triple Shot Espresso's chocolate base definitely brings out a pronounced sharper edge to the espresso flavor.  It is robust and full of body.  The crisp, clean vodka feel of Three Olives is carried throughout.  Underneath is that slight bite of chocolate.  In a straight up tasting, the chocolate edges were not rounded off enough for my palate.  It was not smooth enough.  Van Gogh has a caramel undercurrent leaving a bit of creamy smooth feel in the follow through. 
However, my tasting did not stop there.  Three Olives introduced four new recipes with the Triple Shot Espresso.  Once I moved along to these cocktails, what mattered most was whether the espresso flavor remained the primary feature and how the flavor held up after mingling with other spirits. 
Money Shot
1 ounce Three Olives Triple Espresso Vodka
1/2 ounce Hazelnut Liqueur
1/2 ounce Half and Half
Pour all ingredients into a cocktail shaker.  Shake for ten to fifteen seconds.  Strain into a shooter. 
Again with a confession; I typically do not recommend shots or shooters as expressed in a much earlier post.  However, the Money Shot is an astonishing surprise.  This is not a "throw back to get wasted" shooter.  It would be possible to increase the ratios slightly and make this into a cocktail.  The Money Shot is slightly nutty with definite espresso shine through.  The half and half adds froth, but does not make this a creamy shooter.  It is just the right amount of sweetness.  While this is a shaken over ice and then strained drink, I could definitely imagine this as a warmed drink.  Possibly it is the nature of the espresso flavor which is associated of course with hot coffee.
Triple Decadence
1-1/4 ounce Three Olives Triple Shot Espresso Vodka
3/4 ounce Premium Dark Chocolate Liqueur
1/2 ounce Orange Liqueur
Orange Twist for Garnish
Pour all ingredients into a cocktail shaker.  Shake for ten to fifteen seconds.  Strain into martini glass.  Garnish with an orange twist.
The Triple Decadence had me a teeny bit worried with the addition of dark chocolate liqueur.  What I noticed first off was the scent of orange zest on the rim.  Divine.  With my first sip; the coffee flavor was intense.  The balance of Triple Shot Espresso to the two liqueurs was perfect; not too sweet or over the top.  While there is no half and half added, there is still a creamy texture to this cocktail.  It is also my guess that if you had another favorite liqueur besides orange, it could most likely be substituted.  Possibly cassis or blackberry would be nice additions instead. 
Triple Espresso Martini
1-1/2 ounce Three Olives Triple Shot Espresso Vodka
1 ounce Coconut Rum
1/2 ounce Amaretto Liqueur
Chocolate Syrup for Rimming (or lace inside of chilled cocktail glass)
Shake rum and amaretto in a cocktail shaker with ice.  Strain into chocolate rimmed martini glass.  Shake vodka with ice in a cocktail shaker.  Strain and layer into martini glass.
The Triple Espresso Martini faltered.  First of all I found this one to be sickly sweet.  Possibly if there were some half and half to cut some of the sugar it would be fine, but not as is.  Secondly, this cocktail was entirely too gooey to want to put my lips on the rim of the glass.  To be fair the rim of the glass is dipped in chocolate and I have already confessed my aversion to chocolate.  But honestly whether I am a lover of chocolate, caramel (which I do like) or raspberry syrup, these are all things I do not want slicked across my lips or dripping from them while I am attempting to take a sip from a cocktail at a bar with girlfriends or in front of a date.  Dipping a cocktail glass in chocolate syrup looks beautiful, but it is not the wisest choice for a cocktail rimmer.  Lace the inside of the glass instead for a beautiful effect. 
White Mochatini
1 ounce Three Olives Triple Shot Espresso Vodka
1 ounce Premium White Chocolate Liqueur
1 ounce Half & Half
3 Espresso Beans for Garnish
Combine first three ingredients in a cocktail shaker filled one-third full of ice.  Shake ten to fifteen seconds.  Strain into a chilled martini glass.  Garnish with three espresso beans. 
Of course there was one more chocolate martini; the White Mochatini.  This one has three espresso beans as garnish on the top.  These are imperative to the cocktail as their aroma is the first thing that hits you as you go in for a taste.  The white chocolate is of course smooth and creamy, but it almost overwhelms the espresso flavor.  The espresso is there, but does not shine through as much as I feel it should in a Triple Shot Espresso cocktail.  This cocktail is also very sweet as one could guess with an entire ounce of white chocolate liqueur in it.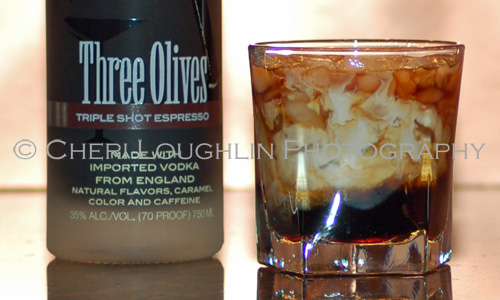 Espresso White Russian – adapted by Cheri Loughlin
1-1/4 ounce Three Olives Triple Espresso Vodka
1-1/4 ounce Kahlua Especial
1-1/4 ounce Half and Half
Fill a rocks glass two-thirds full of ice.  Build drink in order given (lightest to heaviest liquids first).  Insert a stir stick.
Variation:
2-1/2 ounces Three Olives Triple Espresso Vodka
1-1/4 ounce Half and Half
Combine using directions above.  This version cuts down on a few of the calories and carbohydrates from the liqueur, while still enjoying the deep, rich flavor of the espresso from the espresso vodka. 
I could not let an espresso vodka tasting slip away without trying it in one of my favorite drinks; the White Russian.  The Triple Shot Espresso Vodka holds up rather nicely and deepens the espresso flavor bringing added richness to this mixed drink as would be expected. 
All in all I am rather pleased with the Triple Shot Espresso Vodka.  This is a wonderful addition to the liquor cabinet.  What will be truly exciting is experimenting with new recipes and imagining the possibilities.  Liquor is no longer just for cocktails and mixed drinks.  What about ice cream, hot chocolate or enriching the flavor of coffee at weekend brunch?  The options are endless.
All content ©2014 Cheri Loughlin, The Intoxicologist. All Rights Reserved. Chat with Cheri @Intoxicologist on Twitter and facebook.com/Intoxicologist or str8upcocktails@gmail.com
Three Olives Triple Shot Espresso: Enriching Your Cocktail Experience