NUVO Sparkling Liqueur.  You partied with it the night before or maybe the week before with its beautiful bubbly effervescent glow.  The lilting tingles tickled your fancy to the wee hours of the morning.  You thought there could never possibly be an end to NUVO's glory until…this delightful little joy went flat while you caught a few winks of shut eye.  While you rejuvenate, NUVO flattens.  What to do?  Why waste good NUVO?  There must be something.  Right?!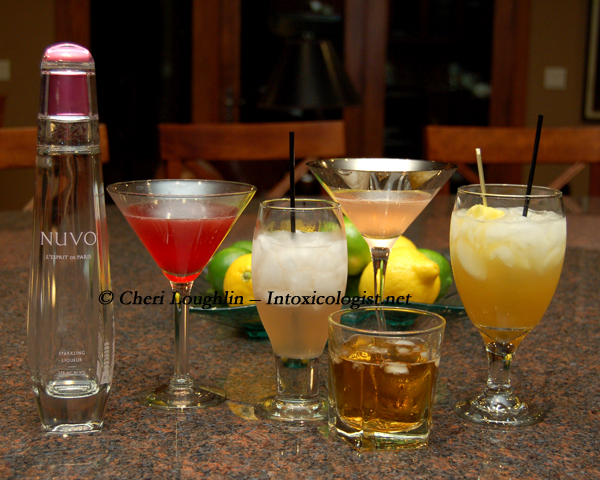 The first thought might be to just top NUVO off with a bit of the bubbly for renewed freshness.  If that floats your boat, fine.  But this only waters NUVO down.  Begin building NUVO's flavor profile back up with the basics: Gin, Rum, Vodka, and Tequila.
NUVO & Rangpur – created by Cheri Loughlin
1-1/2 ounce Tanqueray Rangpur Gin
1 ounce flat NUVO Sparkling Liqueur
1/4 ounce Fresh Lemon Juice
1/4 ounce Raspberry Liqueur
1-1/2 ounce Diet Tonic Water
Combine all liquids (except tonic water) in a cocktail shaker with ice. Shake to chill. Strain into a chilled martini glass. Top off with diet tonic water.
This is similar to a Gin & Tonic with an updated, straight-up twist.  NUVO lovers get their fizz back with the addition of the tonic water while keeping the pretty pink hue and flavor of the raspberry blossom.  The Rangpur Gin creates a fabulous base for gin fans and those who are just discovering this lovely spirit.  The Rangpur lime zing adds just enough splash to give NUVO & Rangpur the vitality it needs.
Italian Tropics – created by Cheri Loughlin
1/2 ounce Tuaca
2 ounces Pineapple Orange Juice
1 ounce flat NUVO Sparkling Liqueur
Pineapple Chunks for Garnish
Build over ice in a tall decorative glass. Garnish with skewered pineapple chunks.
Although this cocktail was meant to highlight or at the bare minimum incorporate the flavor of NUVO Sparkling Liqueur, instead it masks it to such a degree not a smidge of NUVO can be detected with its full one ounce addition to the drink.  However, the Italian Tropics is buttery-scotch delicious!  Conclusion:  Save the flat NUVO for a rainy day, but keep this cocktail for a sunny day on the deck or beach.  
Nuevo NUVO – created by Cheri Loughlin
1 ounce flat NUVO Sparkling Liqueur
2 ounces Acai Juice with Raspberry
1/2 ounce Fresh Lemon Juice
1/4 ounce Simple Syrup
Lemon Twist Garnish
The Nuevo NUVO renews the NUVO flavor to fabulous rich raspberry goodness.  Of course the enhancement is due to the Bossa Nova addition, but this brings out a hint of NUVO in the background of the cocktail.  That little hint maybe just what one needs to stir memories of the good times shared previously with NUVO friends. 
To bring the bubbly back to the Nuevo NUVO try these options:
1-1/2 ounce club soda adds the right amount of bubbly effervescence without watering the cocktail down or contributing more alcohol.
1-1/2 ounce brut champagne will add more alcohol, but also more bubbles and cut a tad of the sweet while bringing its own grapevine twist to the cocktail.
1-1/2 ounce sparkling sake brings tingles to the cocktail with light zing that is distinctly dry yet satisfying without adding more sweetness. 
NUVO Margarita – created by Cheri Loughlin
1 ounce flat NUVO Sparkling Liqueur
3/4 ounce Homemade Sour
Lime Wheel for Garnish
Salted for glass rim optional
Salt rim of margarita or highball glass. Add liquids to cocktail shaker. Shake to blend. Strain into prepared glass over fresh ice. Garnish with lime wheel.
This is quite strong on tequila flavor with only a hint of NUVO.  Definitely not a drink for anyone who turns a nose up at tasting alcohol in their cocktail.  Adding lime and fruit juice to this mixture began mucking up the flavor drastically.  My reasoning behind this particular cocktail however happened to be the "manly" angle.  NUVO's color is pink; not so masculine, yet consumed by many men if you happen to take a peek at NUVO Facebook photos.  As a female I often care for something a little edgier than the frill of pink in a cocktail.  Why not give NUVO consumers the best of both worlds; flavor packed NUVO.
Conclusion:Flat NUVO loses its flavor considerably.  Part of the thrill and bounce is in the tiny bubbles springing to the top of the glass.  Without the bubble all that remains is one dimensional pink liquid without much taste for the tongue to enjoy.  NUVO is available in a wide range of sizes to fit your personal to party needs.  Find the size that suits your mood and enjoy. 
Cheri Loughlin is a leading cocktail and photography resource for beverage companies, event planners, businesses and individuals. High resolution cocktail and beverage stock photography images are available in downloadable digital format in the newly redesigned Stock Photography Gallery at www.cheriloughlin.com. 
Twitter, Facebook, StumbleUpon – str8upcocktails @ gmail.com – ©2012 Cheri Loughlin-The Intoxicologist, All Rights Reserved. All opinions, reviews and spirits' coverage are the personal opinion and decision of Cheri Loughlin.
NUVO Lost its Sparkle? Bring the Twinkle Back