Beware the name, but more wary of the high proof on this cocktail.  Old Fitzgerald Bourbon is 100 proof but tasted great in this bourbon recipe.  Nice mellow orange tones with quite a bit of vermouth shine.  Not too sweet.  Bourbon as base spirit runs deep in this sipping cocktail.  The glow reminds me of a beautiful sunset just before it fades.  Just as one would sit leisurely and enjoy a glorious sunset, relax and take in the full pleasure of Deadly Sin in a laid-back, easy going manner. 
Deadly Sin – The Bartender's Best Friend, Mardee Haidin Regan
Adapted from Rafael Ballesteros, Spain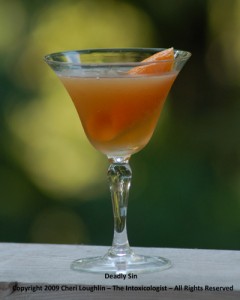 2 ounces Bourbon (Old Fitzgerald)
1/3 ounce Sweet Vermouth
1/4 ounce Maraschino Liqueur
Dash Orange Bitters
Orange Twist Garnish
Combine liquid ingredients in a cocktail shaker with ice.  Shake to blend and chill.  Strain into a cocktail glass.  Garnish with a fresh orange twist. 
Cheri Loughlin is a leading cocktail and photography resource for beverage companies, event planners, businesses and individuals. High resolution cocktail and beverage stock photography images are available in downloadable digital format in the newly redesigned Stock Photography Gallery at www.cheriloughlin.com.
Twitter, Facebook, StumbleUpon – str8upcocktails @ gmail.com – ©2012 Cheri Loughlin-The Intoxicologist, All Rights Reserved. All opinions, reviews and spirits' coverage are the personal opinion and decision of Cheri Loughlin.