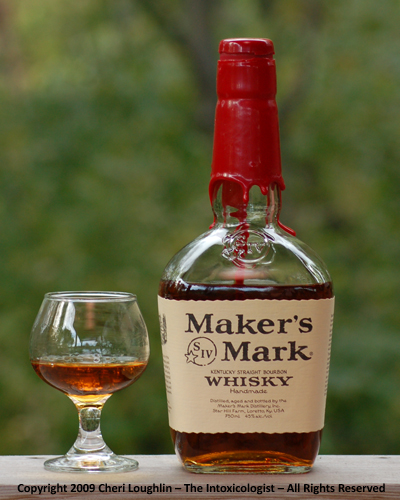 Maker's Mark Bourbon carries off as a rather hearty bourbon, dark in color with rich, deep flavor.  There are subtle cherry tones with chocolate filtering in between hints of orange and possibly a fraction of apricot peel.  At 90 proof there is surprisingly little burn.  The maker hit his mark right on target with this American Spirit.
Hangman's Noose – created by Cheri Loughlin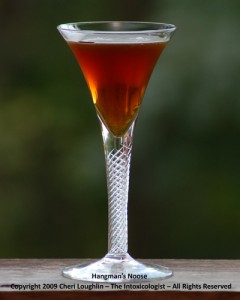 1-1/4 measure Maker's Mark Bourbon
1/2 measure Godiva Liqueur Original
1/4 measure Sweet Vermouth
Place ingredients in a mixing glass with ice.  Shake to chill.  Strain into an old fashioned cocktail glass.
The Hangman's Noose plays up the characteristics of Maker's Mark Bourbon with a bit of cinnamon and chocolate shine coming through without dominating the original spirit.  Surprisingly not too sweet.  Vermouth helps add a little balance while bringing our more spice.  This makes a great Halloween drink recipe due to the name or holiday cocktail due its classic style. 
Cheri Loughlin is a leading cocktail and photography resource for beverage companies, event planners, businesses and individuals. High resolution cocktail and beverage stock photography images are available in downloadable digital format in the newly redesigned Stock Photography Gallery at www.cheriloughlin.com.
Twitter, Facebook, StumbleUpon – str8upcocktails @ gmail.com – ©2012 Cheri Loughlin-The Intoxicologist, All Rights Reserved. All opinions, reviews and spirits' coverage are the personal opinion and decision of Cheri Loughlin.