When Halloween falls on a weekend, it's time to mix up a little Halloween whiskey mischief. Paranormal partying often begins as soon as the work week ends and continues throughout the weekend.  Whether you're a diehard straight liquor enthusiast or sugared up cocktail fan, this Halloween brings out the party spirit in almost everyone.  For bourbon and whiskey lovers who want a little mischief mixed into their grisly celebration, plan ahead with a few spell inducing potions that scream 'Halloween."  Drops of 'blood', oozing foam and a little black magic will horrify the most gruesome phantoms during the Day of the Dead.
Whiskey Mischief Halloween Cocktails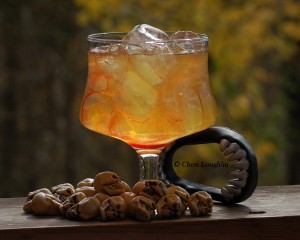 Bloody Venom – recipe by Mixologist Cheri Loughlin
1-1/2 ounce Jim Beam Bourbon
1/4 Fresh Lime Squeezed
Top with Mountain Dew
Drizzle 1/4 ounce Homemade Grenadine over the top
Place Jim Beam Bourbon in highball glass over ice.  Squeeze 1/4 fresh lime over top and discard lime.  Top off with Mountain Dew.  Drizzle 1/4 ounce grenadine over the top.  Enjoy with fanged pleasure!
It's been a long week, long month, long year.  Thirsting for more?  Devil's Night is ideal for an Infusion of spirited nature.  Though this enchanted drink sips at the soul with lighter touch on the tongue, don't let it fool you.  Its spirit still trickles through your veins, casting refreshing pleasure to dull the senses.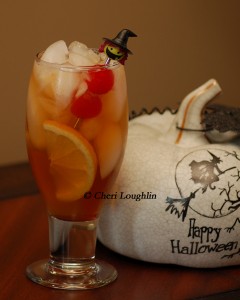 Infusion – recipe by Mixologist Cheri Loughlin
1-1/2 ounce Jim Beam Bourbon
Lipton Raspberry Pure Leaf Iced Tea
Lemon & Maraschino Cherry Garnish
Build over ice in a highball glass.  Garnish with lemon wedge and maraschino cherries.  Sip responsibly.  This one goes down so easily it's like getting an infusion of Jim Beam Bourbon without even knowing it.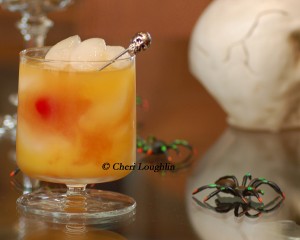 Dawn of the Red – recipe by Mixologist Cheri Loughlin
1 ounce Red Stag by Jim Beam
3 ounce Tropicana Orange Juice
1 ounce Ocean Spray Cranberry Juice
Maraschino Cherry Garnish
Build over ice in a highball glass.  Garnish with maraschino cherry.
Creepy capes, fanged teeth dripping with blood and sleek black hair; this is how vampires were written into plot lines and movie scenes in days gone by.  Modern vampires have lost their touch with scripts of drama and teenage angst.  Where oh where have the coffins, capes and crosses gone?  The world misses a good lust worthy vampire.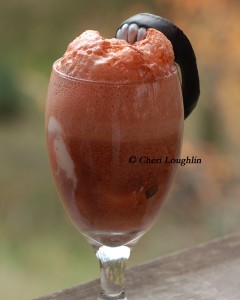 Vampire Lust – recipe by Mixologist Cheri Loughlin
2 Large Scoops Vanilla or Chocolate Chip Ice Cream
1 ounce Red Stag by Jim Beam
Cherry Dr. Pepper
Place ice cream scoops in tall glass.  Pour Red Stag over the top of ice cream.  Top off with Cherry Dr. Pepper.  Dive in with the covetousness of a vampire in full blood thirst mode.
It's difficult being good when you're dressed in a fringed flapper dress, fishnet stockings and stiletto shoes.  That's the wickedly fabulous part of Halloween; dressing in costume, playing the part under pretense that it isn't really you.  Oddly enough, the attire speaks volumes as to who the person is inside.  Be temptingly wicked and live the fantasy.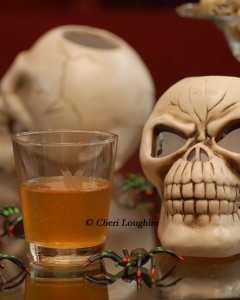 Wicked Rye – recipe by Mixologist Cheri Loughlin
1 Teaspoon Absinthe
2 ounce Jim Beam Rye
1 Lemon Slice – Squeezed
2 dashes Peychaud's Bitters
Place crushed ice in an old fashioned glass. Drizzle absinthe around outer edges of ice.  Set aside.  Place Jim Beam Rye, fresh squeezed lemon juice and bitters in a mixing glass with ice.  Stir.  Make sure absinthe has coated bottom half of old fashioned glass and toss out.  Strain rye mixture into emptied old fashioned glass.  If the Wicked Rye is a little too tart for your taste, add a wee amount of simple syrup.  You'll find Wicked Rye is simply a slight variation of the classic cocktail; Sazerac.
Once upon a time Halloween was called Samhain in a few Gaelic languages.  The game of apple bobbing originated in a time when apples were associated with love and fertility.  It was believed that the first person from the group to bite into an apple would be the first person to marry.  If a young girl placed the apple she bobbed under her pillow that evening, it is said she would dream of the man she would marry.  It seems a bit simpler to walk into a bar, order a drink and start meeting people.  Don't you think?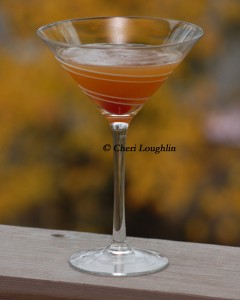 Bobbing for Red Apples – recipe by Mixologist Cheri Loughlin
1 ounce Red Stag by Jim Beam
1 ounce Dole Pineapple Juice
1/2 ounce DaVinci Caramel Syrup
1/2 ounce Sweet Vermouth
Combine all ingredients in a cocktail shaker with ice.  Shake to blend and chill.  Strain into a cocktail glass.  Tastes exactly like a caramel apple without all the oozing, drippy caramel.
There are those cocktail recipes and drinks that slip down effortlessly one after the other.  By the time "Closing Time" rings out through the bar speakers there are already embarrassing photos posted on Facebook and misspelled jargon spewing on Twitter.  Someone is slurring, "I love you," to all the wrong people and either forgetting to tip the bartender (never good) or handing over all their money to the bartender (they'll leave you cab fare since you forgot to tip last time).  These are the cocktails that just taste so darn good someone always wants another.  But please, slow down and have a glass of water, tea or soda between drinks to keep your wits.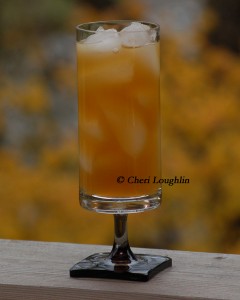 Lobotomizer – recipe by Mixologist Cheri Loughlin
1-1/2 ounce Jim Beam Black
1/2 ounce Amaretto
1/4 ounce DeKuyper Peachtree Schnapps
1 ounce Apricot Nectar
1/2 ounce Pineapple Juice
Build over ice in a highball glass.  Goes down nice and easy.  Drink too many and you'll feel like you just had a lobotomy.

All content ©2010 Cheri Loughlin, The Intoxicologist. All Rights Reserved. Chat with Cheri @Intoxicologist on Twitter and facebook.com/Intoxicologist or str8upcocktails@gmail.com