Washington, D.C., is home to seven professional sports teams which include men and women athletes who work and play hard.  Though basketball, soccer, hockey and baseball rank high in the world of professional sports, there is nothing like the excitement of Monday Night Football to keep the chill of fall at bay when winter's frost waits eagerly in the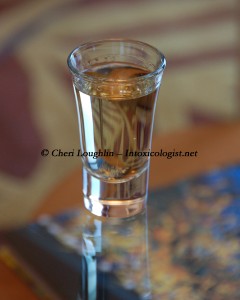 shadows.  Tonight enjoy a few colorful burgundy and gold cocktails for spirited football fun while watching the Washington Redskins take on the Philadelphia Eagles.
Gold Rushing Shot – adaption by Cheri Loughlin
1 part Goldschlager
1 part Tequila
Chill spirits. Combine in shot glass.
Burgundy & Gold Margarita – created by Cheri Loughlin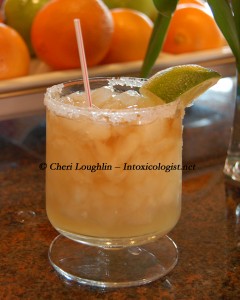 2 ounces Reposado Tequila
3/4 ounce Premium Orange Liqueur
1/2 ounce Agave Syrup
1 ounce Lime Juice
1/4 ounce Blackberry Brandy
Lime Wedge Garnish
Salt
Rim chilled cocktail glass with salt if desired. Set aside. Place tequila, Cointreau, agave syrup and lime juice in cocktail shaker with ice. Shake to blend and chill thoroughly. Strain into prepared cocktail glass over fresh ice. Float blackberry brandy over top.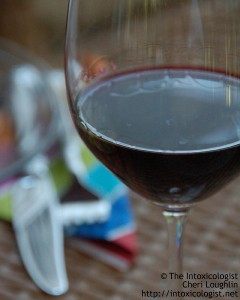 Burgundy Cocktail
2 parts Dry Red Wine
1 part Cognac
1/2 to 3/4 part Crème de Cassis
Place liquids in mixing glass with ice. Stir until completely chilled. Strain into large wine glass.
Cheri Loughlin is a leading cocktail and photography resource for beverage companies, event planners, businesses and individuals. High resolution cocktail and beverage stock photography images are available in downloadable digital format in the newly redesigned Stock Photography Gallery at www.cheriloughlin.com.
Twitter, Facebook, StumbleUpon – str8upcocktails @ gmail.com – ©2012 Cheri Loughlin-The Intoxicologist, All Rights Reserved. All opinions, reviews and spirits' coverage are the personal opinion and decision of Cheri Loughlin.