Coffee and hot chocolate drinks are hot commodities year round, but become warming indulgences especially during winter months and holiday times. While spirited versions are always delicious to sip, it is also nice to have non-alcoholic mocktail recipes on hand for times we want to relax without the buzz or have as optional serve for those too young to consume alcohol. The coffee and hot chocolate recipes below are listed as non-alcoholic recipes with notations for ways to sweeten the deal into spirited blends if preferred. Ten more hot chocolates with variety of spirits can be found on the site as well as coffees, teas and ciders.  Additional hot brews using a variety of spirits may also be of interest.
Morning never tasted so sweet as a tall cup of chilled coffee after numerous cups of steaming hot brew.  Nilla Frappe gives off hints of vanilla tipped off by the sweetness of caramel, followed by the decadence of whipped topping.
Nilla Frappe – created by Cheri Loughlin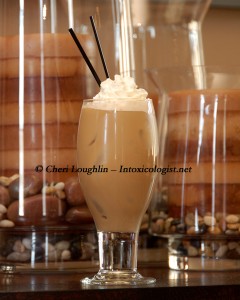 4 ounces Cold Coffee
1 unit International Delights French Vanilla
1/2 ounce DaVinci Caramel Syrup
Whipped Cream Garnish
Combine liquids over fresh ice.  Stir.  Top with whipped cream.  Notation: Take this delicious non-alcoholic treat to the next level with a splash of Navan, Butterscotch schnapps or Licor 43 in exchange for the International Delights French Vanilla.
The buzz surrounding caffeinated bliss is really all that it's jazzed up to be according to one source; in moderation of course.  In other words – please drink responsibly.
Triple Threat – created by Cheri Loughlin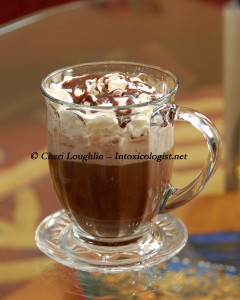 5 ounces Hot Coffee
1 package Hot Chocolate
Whipped Cream
Chocolate Sauce
Place dollop of chocolate sauce in bottom of heatproof coffee container.  Add half of coffee amount and then package of hot chocolate.  Stir thoroughly.  Add remaining coffee.  Top with whipped cream.  Drizzle chocolate sauce on top. Notation: Make the Triple Threat go the extra mile by adding a splash of Crème de Cacao or Godiva for extra chocolaty goodness, Voyant Chai for hint of something different or Castries Peanut Rum Creme for a hint of Reeses flair.
It is the simple self-indulgent luxuries we use to lift our spirits and keep us going those few hours more during the morning that keep spirits lively throughout the day.  Chocolate Marsh is precisely the most decadent offering of the day.  Choose this tasty morsel as sumptuous start or lush ending to the day.
Chocolate Marsh – created by Cheri Loughlin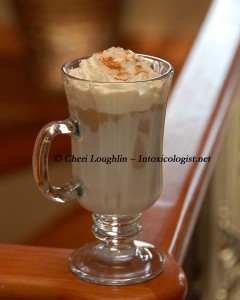 1/2 ounce Torani White Chocolate Syrup
1 unit International Delight Hazelnut Coffee Creamer
4 ounces Hot Coffee
Marshmallow Topping
Whipped Cream
Nutmeg
Swirl marshmallow topping in heatproof coffee container.  Add white chocolate syrup, coffee creamer and hot coffee.  Top with whipped cream.  Sprinkle with nutmeg. Notation: Bring this non-alcoholic coffee to the next level by substituting Frangelico Liqueur and Godiva White Chocolate Liqueur for the syrup and coffee creamers.
A hot, steamy straight pour is usually my preferred choice for the first rounds of java, but every once in a while a delicious dessert style cup of coffee stirs my interest.  The Razz is a warm, creamy dessert style coffee for any time of year, but especially lovely during winter months.  Since The Razz coffee recipe contains no alcohol it may be enjoyed day or evening.
The Razz – created by Cheri Loughlin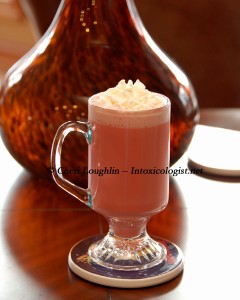 1 ounce DaVinci Raspberry Syrup
1-1/2 ounce Half & Half
5 ounces Hot Coffee
Whipped Cream Garnish
Combine liquids in heatproof coffee container.  Add whipped topping garnish. Notation: The Razz easily steps up to a notch by substituting Raspberry Liqueur for the raspberry syrup.
Twitter, Facebook, StumbleUpon – str8upcocktails @ gmail.com – ©2012 Cheri Loughlin-The Intoxicologist, All Rights Reserved. All opinions, reviews and spirits' coverage are the personal opinion and decision of Cheri Loughlin.