The Soul Kiss Cocktail provides the perfect recipe for snuggle success.  This old style cocktail adds charm to cool evenings and cozy occasions with its dry vermouth and Dubonnet Rouge inclusion.  Rather than use Canadian Whiskey the original recipe called for I've substituted Tennessee Whiskey.  Soul Kiss Cocktail contains a wee amount of bitterness on the back end, but a tad more Dubonnet Rouge adjustment would fix that in a jiffy.  Take advantage of cooler temperatures and heat things up with a drink recipe embracing the essence of the season; Soul Kiss Cocktail.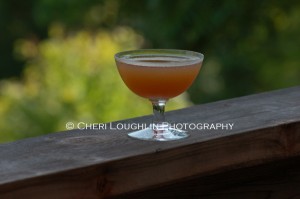 Soul Kiss Cocktail
2 ounces Tennessee Whiskey
1/4 ounce Dry Vermouth
1/4 ounce Dubonnet Rouge
1/2 ounce Orange Juice
Combine liquids in a cocktail shaker with ice.  Shake to blend and chill.  Strain into chilled cocktail glass.
Cheri Loughlin is a leading cocktail and photography resource for beverage companies, event planners, businesses and individuals. High resolution cocktail and beverage stock photography images are available in downloadable digital format in the newly redesigned Stock Photography Gallery at www.cheriloughlin.com.
Twitter, Facebook, StumbleUpon – str8upcocktails @ gmail.com – ©2012 Cheri Loughlin-The Intoxicologist, All Rights Reserved. All opinions, reviews and spirits' coverage are the personal opinion and decision of Cheri Loughlin.