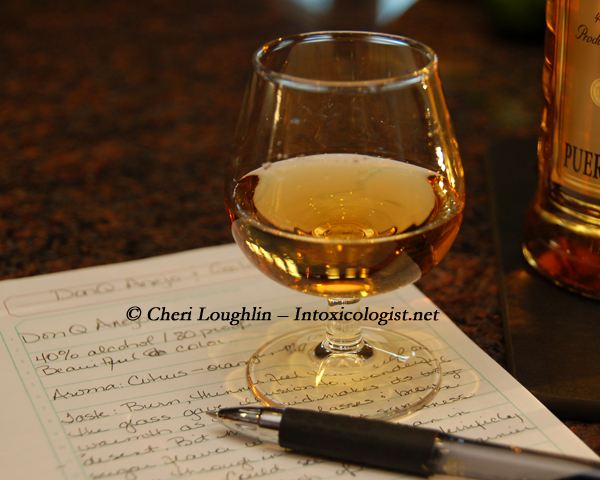 Aged or Anejo usually brings to mind sipping spirits rather than mixing spirits. In the case of anejo rum it might also be used as a floater for added flavor depth on top of a cocktail. Rarely do I grab anejo spirits to mix a drink. It's a shame really. Rather than pigeon-hole a flavor packed anejo rum into the sipper only category, it's high time I started shaking it up.
DonQ Anejo Rum Tasting Notes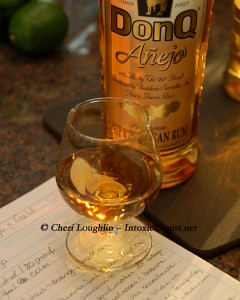 40% Alcohol. 80 proof. Beautiful color.
Aroma: Orange citrus. Molasses.
Taste: Burn. Thinner feel than legs on the glass allude to. Wonderful warmth as the liquid descends down the back of the throat. Bit more molasses and brown sugar flavor without too much sweetness follow through. Tiniest notes of toasted nut. Mocha. Faint chocolate with tad of bitter coffee bean.  Definitely see DonQ Anejo going terrifically with a small splash of Grand Marnier warmed by the fire. Ironically there is already a cocktail for that!
The only glitch with this rum is the pour spout. From the few bottles of DonQ Rum I've opened so far, the Anejo is the only one that has the tamper proof pour spout. These spouts just make pouring a little more difficult since sometimes the liquid doesn't flow and then suddenly gushes. A little frustrating, but the rum makes up for it in flavor.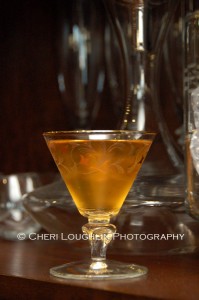 Batiste
2 ounces Anejo Rum
3/4 ounce Grand Marnier
Combine liquids in mixing glass with ice. Stir to chill. Strain into chilled cocktail glass.
Batiste contains amazing color! Deep, rich flavor. Hint of sweet rather than sticky sugar. Retains value of the rum notes. Great chilled for happy hour, but would also serve lovely as an after dinner cocktail sipped fireside. Brings out chocolate orange and coffee notes with much more burnt brown sugar and molasses. Another terrific feature of the Batiste; it's an easy two ingredient cocktail.
Original Batiste recipe calls for Light Rum and calls for 1 ounce Grand Marnier. If you prefer even less sweet, cut the Grand Marnier back to 1/2 ounce. It still tastes fab!
Browse DonQ Rum specific posts, Rum Cocktails in general and more Reviews by following the links. High resolution digital photo
downloads are available for brand, cocktail menu creation use and individual use at www.cheriloughlin.com within the Beverages category.
DonQ Anejo Rum sample for review courtesy representatives of DonQ Rum. All opinions, reviews and spirits' coverage contained within are the personal opinion and decision of Cheri Loughlin, The Intoxicologist.
Find The Intoxicologist on Twitter, Facebook, StumbleUpon or Email: str8upcocktails@gmail.com – Copyright 2011 Cheri Loughlin – The Intoxicologist – All Rights Reserved