Formulas for the classic Sidecar vary by measurement and base spirit. Pick your poison depending upon sweetness level and fruited flavor. Make it with flavored brandy such as apricot (delicious) or bring in nut and spice notes with fine Calvados or Armagnac. Classic versions usually call for equal parts cognac/brandy, Cointreau and lemon juice with lemon twist (1:1:1). This ratio should be tweaked according to taste preference and quality of spirit on hand.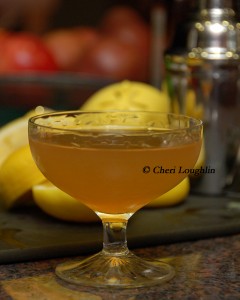 Sidecar
1-3/4 ounces Cognac
3/4 ounce Cointreau
1/2 ounce Fresh Lemon Juice
Orange Twist Garnish
Combine liquids in cocktail shaker with ice. Shake to blend and chill. Strain into chilled cocktail glass. Garnish with orange twist.
Though this variation seems a bit 'upside down' with regard to usual sour formulations of sweet to sour, it works. There is beautiful nut skin dryness on the back end with sweet to sour balance throughout.
Browse more Classic Cocktails and Cognac drinks in post by following the link. High resolution digital photo downloads are available for brand, cocktail menu creation use and individual use at www.cheriloughlin.com within the Beverages category.
Find The Intoxicologist on Twitter, Facebook, StumbleUpon or Email: str8upcocktails@gmail.com – Copyright 2011 Cheri Loughlin – The Intoxicologist – All Rights Reserved – All opinions, reviews and spirits' coverage contained within are the personal opinion and decision of Cheri Loughlin, The Intoxicologist