Definitely not for the faint of heart, Joyous Almond speaks to the serious candy loving cocktail lover. Though there are more ingredients involved in this cocktail than I'd usually like to list, they can be found easily and be used for many future cocktails or desserts. Joyous Almond pairs well with birthdays, Girls Night Out, in place of indulgent desserts or any darn time you feel like splurging on a few extra moments lingering over a decadent cocktail.
Joyous Almond– created by Cheri Loughlin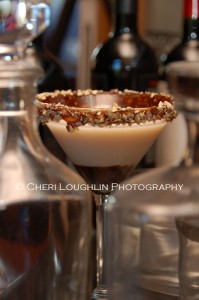 1-1/4 ounce Vanilla Vodka
3/4 Coconut Vodka
1/4 Amaretto Liqueur
1/4 ounce Chocolate Liqueur
1/2 ounce Heavy Whipping Cream
1/2 ounce Coconut Cream
1/4 ounce Chocolate Syrup
1/4 ounce Coconut Cream
Chopped Almonds Garnish
Roll edge of chilled cocktail glass in chocolate liqueur. Dip in chopped almonds. Chill to set. Drizzle 1/4 ounce chocolate syrup and 1/4 ounce coconut cream in bottom of almond rimmed glass. Set aside. Combine vodkas, liqueurs, heavy cream and 1/2 ounce coconut cream in cocktail shaker with ice. Shake to blend and chill thoroughly. Strain into prepared glass.
Find The Intoxicologist on Twitter, Facebook, StumbleUpon
or Email: str8upcocktails@gmail.com – Copyright 2011 Cheri Loughlin – The Intoxicologist