Bourbon neat or on the rocks is grand for the usual sip, but sometimes relaxing with friends on the back deck in warmer temperatures calls for something a little different. Time drifts by leisurely with a relaxing long drink in hand. Colonel Lee's Cooler certainly fits the bill.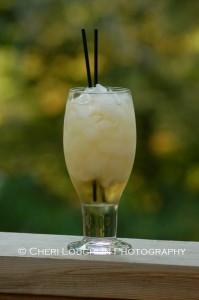 Colonel Lee's Cooler
1 measure Bourbon
1 measure Brandy
1/8 measure Triple Sec
4 measures Ginger Ale
Place ice in Collin's glass. Add bourbon, brandy and triple sec first. Top with ginger ale. Stir.
Though this long drink is quite pleasant it leans toward the sweet side without becoming overly sweet. It reminds me of Texas sweet tea without the bite on the back end. Colonel Lee's Cooler would also do quite nicely without Triple Sec if sweet cocktails are not quite what nature intended for your taste buds.
Cheri Loughlin is a leading cocktail and photography resource for beverage companies, event planners, businesses and individuals. High resolution cocktail and beverage stock photography images are available in downloadable digital format in the newly redesigned Stock Photography Gallery at www.cheriloughlin.com.
Twitter, Facebook, StumbleUpon – str8upcocktails @ gmail.com – ©2012 Cheri Loughlin-The Intoxicologist, All Rights Reserved. All opinions, reviews and spirits' coverage are the personal opinion and decision of Cheri Loughlin.