Some cocktails make you stand at attention, pucker up and take notice. Double Eagle is one such cocktail. Its simple structure makes this ideal for splitting in half for moderate sipping or on the rocks pour. This cocktail also leans a bit toward tart rather than too sweet which allows room for adjustment for those who like to tweak to taste. After all, cocktail hour should be about enjoying a drink how you like it.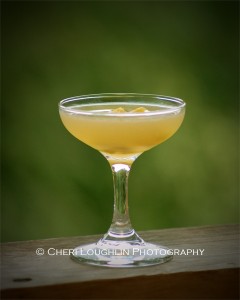 Double Eagle
2 ounces Bourbon
2 ounces Southern Comfort
2 ounces Lemon Juice
Lemon Twist Garnish
Combine liquids in cocktail shaker with ice. Shake to blend and chill. Strain into chilled cocktail glass.
Wow! Lemon truly overtakes the cocktail until it warms to room temperature a tiny bit. Adjusting the ratio of Southern Comfort, downplaying the lemon juice or adding a splash of simple syrup does Double Eagle justice in smoothing out the flavor. The aroma is quite pleasant reminding of fresh lemonade without all the sugar. Bourbon is exceedingly mellow in the background.
Cheri Loughlin is a leading cocktail and photography resource for beverage companies, event planners, businesses and individuals. High resolution cocktail and beverage stock photography images are available in downloadable digital format in the newly redesigned Stock Photography Gallery at www.cheriloughlin.com.
Twitter, Facebook, StumbleUpon – str8upcocktails @ gmail.com – ©2012 Cheri Loughlin-The Intoxicologist, All Rights Reserved. All opinions, reviews and spirits' coverage are the personal opinion and decision of Cheri Loughlin.