One of my favorite diet juices makes the perfect mixer for many lower calorie drinks. Ocean Spray Diet Blueberry Pomegranate Juice is wonderful on its own with ice or mixed with a variety of flavored vodkas or rums. Wild Tea Vodka pairs quite nicely with the sharpness of black tea playing off the delicious blueberry. The end result is rather satisfying for leisurely sipping.
Tease Me – adapted by Cheri Loughlin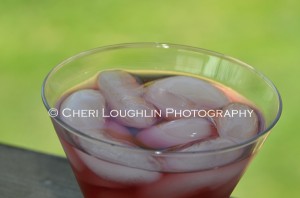 1-1/2 Absolut Wild Tea Vodka
3 ounces Diet Blueberry Pomegranate Juice
Frozen Blueberries Garnish – optional
Build over fresh ice in highball glass.
Basically blueberry tea. Refreshing. Sip long without the guilt.
High resolution digital photo downloads are available for brand, cocktail menu creation use and individual use at www.cheriloughlin.com within the Beverages category.
Find The Intoxicologist on Twitter, Facebook, StumbleUpon or Email: str8upcocktails@gmail.com – Copyright 2011 Cheri Loughlin – The Intoxicologist – All Rights Reserved – All opinions, reviews and spirits' coverage contained within are the personal opinion and decision of Cheri Loughlin, The Intoxicologist