Lots of blueberry sweetness featured front and center in this beautifully hued shot. Light, fruity and shoots straight to thrill. It's enough to make you weak in the knees.
Blueberry Buckle – created by Cheri Loughlin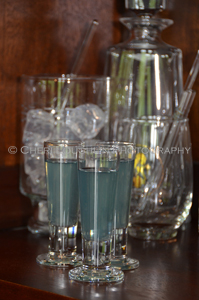 1 measure Blueberry Vodka
1 measure Blueberry Passion Schnapps
1 measure Triple Sec
1 measure Lemonade
Combine liquids in cocktail shaker with ice. Shake to blend and chill. Strain into multiple shot glasses.
Cheri Loughlin is a leading cocktail and photography resource for beverage companies, event planners, businesses and individuals. High resolution cocktail and beverage stock photography images are available in downloadable digital format in the newly redesigned Stock Photography Gallery at www.cheriloughlin.com.
Twitter, Facebook, StumbleUpon – str8upcocktails @ gmail.com – ©2011 Cheri Loughlin-The Intoxicologist, All Rights Reserved. All opinions, reviews and spirits' coverage are the personal opinion and decision of Cheri Loughlin.