Fireside Sipper – created by Cheri Loughlin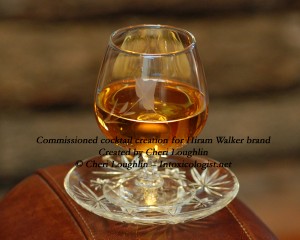 1-1/2 part The Glenlivet Single Malt Scotch Whisky
3/4 part Hiram Walker Peach Flavored Brandy
1 teaspoon Hiram Walker Amaretto Liqueur
1/4 to 1/2 part Filtered Water to taste
Place liquids in a mixing glass – no ice.  Stir gently to blend.  Pour into snifter.
*Excellent fireside sipper, after dinner dessert cocktail.  Veers to the sweeter side, but not sticky sweet.
Cheri Loughlin is a leading cocktail and photography resource for beverage companies, event planners, businesses and individuals. High resolution cocktail and beverage stock photography images are available in downloadable digital format in the newly redesigned Stock Photography Gallery at www.cheriloughlin.com.
Twitter, Facebook, StumbleUpon – str8upcocktails @ gmail.com – ©2011 Cheri Loughlin-The Intoxicologist, All Rights Reserved. All opinions, reviews and spirits' coverage are the personal opinion and decision of Cheri Loughlin.