Always on the lookout for variations on traditional cocktails, Hangar 1 Kaffir Lime Vodka caught my eye for not only a classic styled tonic creation – but lower calorie version at that!  The Hangar 1 Kaffir Lime claims notes of wood, white pepper and cucumber.  My take is superior lime flavor with higher quality feel; or more bang for your low calorie drink buck so to speak.   More flavor in the vodka means less need in the glass for those watching the waistline.  Add in a wee bit of fresh lime, diet tonic and a magically delicious a low calorie, high quality drink awaits. 
A Tale of Two Limes – created by Cheri Loughlin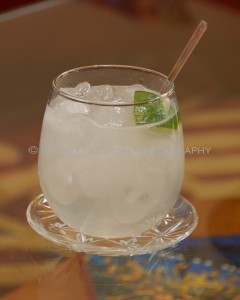 1 measure Hangar 1 Kaffir Lime Vodka
1/2 Fresh Lime Squeezed
Diet Tonic Topper
Lime Wedge Garnish
Build over ice in a cocktail glass.  Garnish with lime wedge.
Cheri Loughlin is a leading cocktail and photography resource for beverage companies, event planners, businesses and individuals. High resolution cocktail and beverage stock photography images are available in downloadable digital format in the newly redesigned Stock Photography Gallery at www.cheriloughlin.com.
Twitter, Facebook, StumbleUpon – str8upcocktails @ gmail.com – ©2011 Cheri Loughlin-The Intoxicologist, All Rights Reserved. All opinions, reviews and spirits' coverage are the personal opinion and decision of Cheri Loughlin.