This tall dark handsome cup 'o brew does it all… warms your spirited side and whets the appetite for the luckiest holiday of all; St. Patrick's Day.
March 17 is St. Patrick's Day
Tall Dark Irishman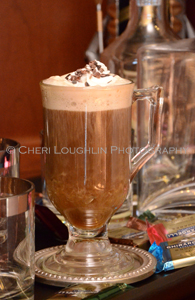 1 measure Irish Whiskey
3/4 measure Irish Cream
3/4 measure Coffee Liqueur
Fresh Brewed Coffee
Whipped Cream
Toffee Bits
Place Irish whiskey and liqueurs in heat resistant coffee mug. Top with fresh brewed coffee. Garnish with whipped cream and toffee bits.
Twitter, Facebook, StumbleUpon – str8upcocktails @ gmail.com – ©2012 Cheri Loughlin-The Intoxicologist, All Rights Reserved. All opinions, reviews and spirits' coverage are the personal opinion and decision of Cheri Loughlin.