Think your Valentine's Day isn't looking so good. Surely it doesn't compare to the Valentine's Day of some… February 14, 1929 – St. Valentine's Day Massacre. The day warring mob gangs took passion to a twisted level of rage.
Valentine's Day Massacre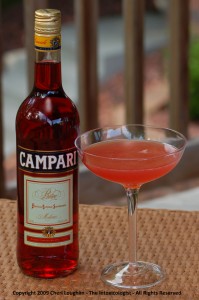 1-1/2 measure Vodka
1 measure Campari
1/2 measure Lime Juice
1 teaspoon Sugar
1 measure Cranberry Juice
Lemon Twist
Combine ingredients in large rocks glass over fresh ice. Stir. Garnish with lemon twist.
Cheri Loughlin is a leading cocktail and photography resource for beverage companies, event planners, businesses and individuals. High resolution cocktail and beverage stock photography images are available in downloadable digital format in the newly redesigned Stock Photography Gallery at www.cheriloughlin.com.
Twitter, Facebook, StumbleUpon – str8upcocktails @ gmail.com – ©2011 Cheri Loughlin-The Intoxicologist, All Rights Reserved. All opinions, reviews and spirits' coverage are the personal opinion and decision of Cheri Loughlin.