It's easy to prepare this succulent frozen drink, but multiply it for a larger batch. Georgia Peach is much too easy to gulp rather than sip. You'll be back at the blender in no time, whirling away.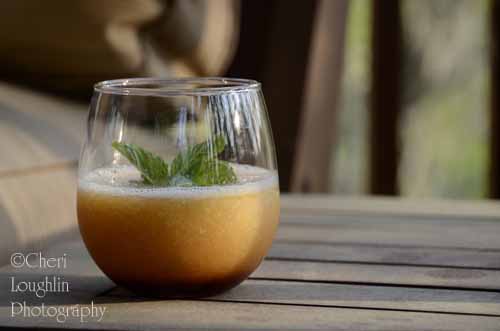 Georgia Peach – created by Cheri Loughlin
2 measures Peach Vodka
3/4 measure Peach Schnapps
1 measure Lemon Juice
1/2 measure Simple Syrup
1 cup Frozen Peaches – unsweetened
1/4 measure Grenadine
Mint Leaf Garnish
Combine all ingredients except grenadine in blender. Blend until completely smooth. Place grenadine in bottom of goblet or rocks glass. Pour blended mixture over grenadine. Garnish with mint leaf. Variation: Add 8 to 12 ounces ice for thicker drink with more volume.
Twitter, Facebook, StumbleUpon – str8upcocktails @ gmail.com – ©2012 Cheri Loughlin-The Intoxicologist, All Rights Reserved. All opinions, reviews and spirits' coverage are the personal opinion and decision of Cheri Loughlin.