Sparkling Mango gives off the Peach Bellini cocktail feel with its champagne flute and fruit flavor. The real appeal lies within its ease of creation. Pop open a bottle of chilled Naked fruit smoothie juice and club soda and this cocktail practically makes itself. Best of all; no guilt in the calories. Naked Mighty Mango comes in at just 37.5 calories per 2 ounce serving. That's all it takes for this cocktail. Club soda is a calorie freebie. Perfect on flavor. Fabulous for watching the curvy figure. 
Sparkling Mango – created by Cheri Loughlin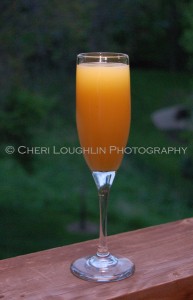 2 ounces Naked Mighty Mango – chilled
4 ounces Club Soda – chilled
Lemon Twist Garnish
Place 2 ounces Naked Mighty Mango in a champagne flute. Slowly top off with four ounces of Club soda.  Lemon twist garnish is optional. Total calories for one cocktail: 37.5
Cheri Loughlin is a leading cocktail and photography resource for beverage companies, event planners, businesses and individuals. High resolution cocktail and beverage stock photography images are available in downloadable digital format in the newly redesigned Stock Photography Gallery at www.cheriloughlin.com.
Twitter, Facebook, StumbleUpon – str8upcocktails @ gmail.com – ©2012 Cheri Loughlin-The Intoxicologist, All Rights Reserved. All opinions, reviews and spirits' coverage are the personal opinion and decision of Cheri Loughlin.