Classic cocktails and classically styled cocktails will always remain a perennial favorite. Señor's Surrender keeps the treasured classic Old Fashioned in mind with a Camarena Tequila twist. Spiced Orange Syrup takes the place of fresh muddled fruit and sugar. The result is barely there hit of smoke intertwining with warming notes of tequila, gentle sweetness carried by lilt of orange and great spice depth continuing through to the finish from the spiced syrup and bitters.
Señor's Surrender – created by Cheri Loughlin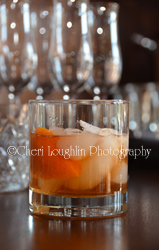 2 measures Camarena Reposado Tequila
1/4 measure Spiced Orange Syrup*
2 dashes Classic Bitters
Orange Twist Garnish
Combine liquids in rocks glass over fresh ice. Stir. Garnish with orange twist. For little less sweet, use 1/8 measure Spiced Orange Syrup.
*Spiced Orange Syrup – created by Cheri Loughlin
Zest of 1 Orange
10 to 12 Whole Cloves
1 heaping tablespoon Whole Allspice
3/4 cup water
1-1/2 cup Cane Sugar
Place all ingredients in saucepan over medium heat. Heat until sugar is completely dissolved (approximately 5 minutes). Strain. Discard zest and spices. Refrigerate syrup.
Cocktail Recipe commissioned by Camarena Tequila Representatives
Cheri Loughlin is a leading cocktail and photography resource for beverage companies, event planners, businesses and individuals. High resolution cocktail and beverage stock photography images are available in downloadable digital format in the newly redesigned Stock Photography Gallery at www.cheriloughlin.com.
Twitter, Facebook, StumbleUpon – str8upcocktails @ gmail.com – ©2012 Cheri Loughlin-The Intoxicologist, All Rights Reserved. All opinions, reviews and spirits' coverage are the personal opinion and decision of Cheri Loughlin.