Mexican Holiday utilizes the flavors of fall with cranberry, orange and spices usually reserved for delicious baked goods. The use of flavorful, easily prepared syrups keeps cocktails freshly flavored and interesting. Mexican Holiday is wonderful for fall, but transitions easily to summertime sipping with lemon wheel garnish and use of Camarena Silver Tequila instead.
Mexican Holiday – created by Cheri Loughlin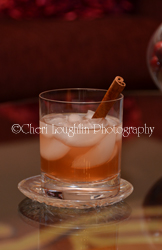 1-1/2 measure Camarena Reposado Tequila
1-1/2 measure Cranberry Juice
1/2 measure Spiced Orange Syrup*
1/2 measure Lemon Juice
Cinnamon Stick Garnish
Combine liquids in rocks glass over fresh ice. Garnish with cinnamon stick to stir.
*Spiced Orange Syrup – created by Cheri Loughlin
Zest of 1 Orange
10 to 12 Whole Cloves
1 heaping tablespoon Whole Allspice
3/4 cup water
1-1/2 cup Cane Sugar
Place all ingredients in saucepan over medium heat. Heat until sugar is completely dissolved (approximately 5 minutes). Strain. Discard zest and spices. Refrigerate syrup.
Cocktail Recipe commissioned by Camarena Tequila Representatives
Twitter, Facebook, StumbleUpon – str8upcocktails @ gmail.com – ©2012 Cheri Loughlin-The Intoxicologist, All Rights Reserved.