This easy build cocktail gives the illusion of deep noted Sangria in the flavor without all the fuss and wait time. Chocolate and orange notes shine through.
Port of Mexico – created by Cheri Loughlin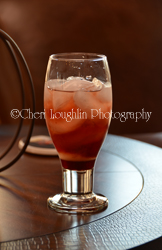 2 measures Camarena Reposado Tequila
1/4 measure Grenadine
1/4 measure Lime Juice
1/2 measure Tawny Porto
Place grenadine in bottom of large rocks glass. Set aside. Place remaining liquids in cocktail shaker with ice. Shake to blend. Strain into rocks glass over grenadine and fresh ice.
Cocktail Recipe commissioned by Camarena Tequila Representatives
Twitter, Facebook, StumbleUpon – str8upcocktails @ gmail.com – ©2012 Cheri Loughlin-The Intoxicologist, All Rights Reserved.