It's a celebratory margarita that sparkles. Bitters give just a tinge of added depth and color to this terrific orange spiced cocktail. Orange twist is recommended to bring out more orange depth. Lime twist recommended for more margarita feel.
Spiced Celebration Sparkler – created by Cheri Loughlin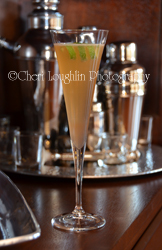 1 measure Camarena Reposado Tequila
1/2 measure Spiced Orange Syrup
1/2 measure Lime Juice
2 dashes Classic Bitters
2 measures Brut Champagne
Lime or Orange Twist Garnish
Combine tequila, syrup, lime juice and bitters in cocktail shaker with ice. Shake to blend and chill. Strain into chilled champagne flute. Garnish with lime or orange twist according to preference.
*Spiced Orange Syrup – created by Cheri Loughlin
Zest of 1 Orange
10 to 12 Whole Cloves
1 heaping tablespoon Whole Allspice
3/4 cup water
1-1/2 cup Cane Sugar
Place all ingredients in saucepan over medium heat. Heat until sugar is completely dissolved (approximately 5 minutes). Strain. Discard zest and spices. Refrigerate syrup.
Cocktail Recipe commissioned by Camarena Tequila Representatives
Twitter, Facebook, StumbleUpon – str8upcocktails @ gmail.com – ©2012 Cheri Loughlin-The Intoxicologist, All Rights Reserved.