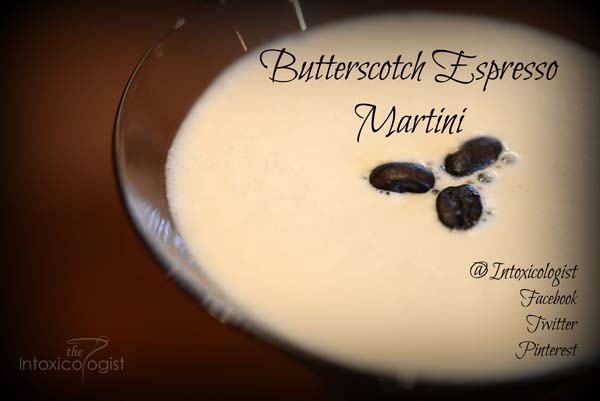 Everyone knows the day starts off a little better when coffee is involved. So in theory every Happy Hour burns a little brighter when coffee is there to shake things up.
Espresso Martinis have long been a cocktail hour favorite. In my opinion, Espresso Martinis are best served with fresh made espresso and rely on light sweetness rather than heavily sweetened, dairy froth. In fact, one of my favorite twists on the traditional Espresso Martini uses a mix of rum and Irish whiskey for depth of whispered smoke throughout the cocktail.
The Butterscotch Espresso Martini adds an extra turn of events to this cocktail's usual flavor profile. The cocktail is still heavily laced with espresso flavor and lightly sweetened. But the butterscotch schnapps softens the bitter flavor edges often present in strong espresso. It also brings the slightest bit of vanilla to the cocktail. Very nice indeed!
Butterscotch Espresso Martini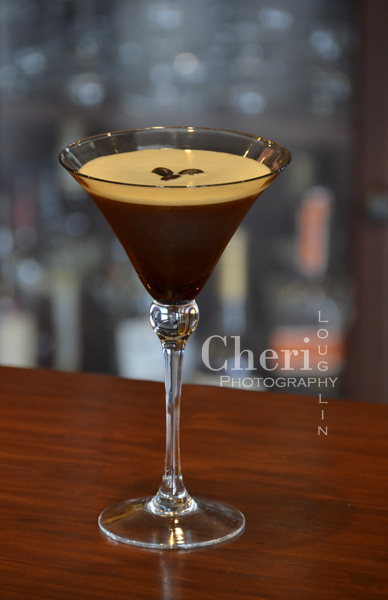 Butterscotch Espresso Martini – recipe by Cheri Loughlin, The Intoxicologist
1-1/2 ounce Shellback Silver Rum
1 ounce Dark Crème de Cacao
1/2 ounce Butterscotch Schnapps
1-1/2 ounce fresh Espresso – cooled
3 Coffee Beans
Place liquid ingredients in a cocktail shaker filled two-thirds full with ice. Shake to blend and chill. Mixture should become frothy. Double strain with fine mesh strainer into a chilled martini glass. Garnish with coffee beans on the top.
Subscribe to the monthly Newsletter for bonus recipes and free downloads.
Follow Cheri Loughlin's board 5 o'clock somewhere | Cocktails on Pinterest.
The Butterscotch Espresso Martini recipe was commissioned by representatives of Shellback Rum as part of The Intoxicologist Corporate Mixology program. Find more recipes created by Cheri Loughlin for Shellback Rum on this site and at ShellbackRum.com and by following Shellback Rum on Facebook.
All content ©2014 Cheri Loughlin, The Intoxicologist. All Rights Reserved. Chat with Cheri @Intoxicologist on Twitter and facebook.com/Intoxicologist