In honor of National Tequila Day Cabo Wabo Tequila sent out three unique recipes to liven up celebrations.  The Waborita stays most true to traditional style Margarita recipes while The Churro Margarita and The Guacarita venture into territory some would speculate as adventurous beyond the margarita glass.
Licor 43, Carolans Irish Cream and Tuaca all remind of creamy, buttery, decadent deliciousness.  Add in the tequila with cinnamon and sugar rim and this cocktail certainly takes off into the realm of luscious dessert feel.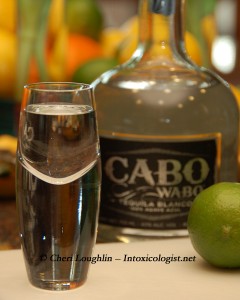 The Churro Margarita
2 ounces Cabo Wabo Añejo Tequila
1 ounce Licor 43
1 ounce Carolans Irish Cream
1/4 ounce Tuaca
Mix of Cinnamon and Sugar for the rim
Shake up liquid ingredients with ice. Strain cocktail over fresh ice into a rocks glass, rimmed with the cinnamon sugar mixture.
If there were ever a Margarita to pair with favorite guacamole and chips snack food The Guacarita would definitely be the one.  Technically Avocado is a fruit rather than vegetable like so many people believe it to be, so enjoy your green fruit blended to rock & roll bliss in this unexpected Margarita recipe.
The Guacarita
2 ounces Cabo Wabo Blanco Tequila
1/2 Skinned Avocado
1/4 ounce Agave Nectar
1/2 ounce Fresh Lime Juice
4 Cilantro leaves
Place all ingredients and ice into a blender. Blend on high for 10 seconds and pour into a margarita glass. Garnish with a short cilantro sprig.
Tales of the Margarita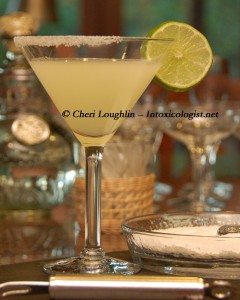 Many claim to be the inventor of the Margarita, but we'll never be sure of its true origin. The most popular anecdote claims that Carlos "Danny" Herrera developed the drink at his Tijuana-area restaurant, Rancho La Gloria, around 1938. Herrera created the cocktail for one of his customers, a beautiful show girl, and aspiring actress, Marjorie King, who was allergic to all hard alcohol except than tequila. She didn't enjoy tequila alone, so Herrera started to experiment with different combinations to make the beverage more palatable. The most delicious combination mixed white tequila with lime juice, shaved ice, triple sec and surprisingly, salt. Herrera named his concoction "Margarita" in honor of his muse, Marjorie. – quoted from PR material
The Waborita
1 ounce Fresh Lime Juice
1 ounce Cointreau
2 ounces Cabo Wabo Reposado Tequila
Splash of Grand Marnier
Salt the rim of a large margarita glass. Combine ingredients in a shaker over ice and strain into the glass. Serve with a lime wheel.  (This signature margarita is served at Sammy Hagar's new Las Vegas Cabo Wabo Cantina)
Twitter, Facebook, StumbleUpon – str8upcocktails @ gmail.com – ©2012 Cheri Loughlin-The Intoxicologist, All Rights Reserved. All opinions, reviews and spirits' coverage are the personal opinion and decision of Cheri Loughlin.