Though there are several versions of the Rat Pack Manhattan swirling about in books and the internet they all contain the same components with variations in measurements. Each ingredient denotes a member of the Rat Pack; Frank Sinatra, Dean Martin, Sammy Davis, Jr., Peter Lawford and Joey Bishop. The post, Make Mine a Manhattan Holiday contains 28 variations of the classic Manhattan cocktail, one of which is another adaptation of the Rat Pack Manhattan with different measurements and omits bitters.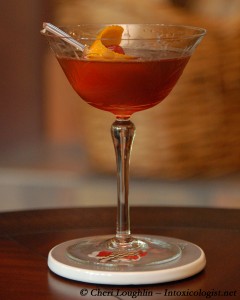 Rat Pack Manhattan
1/4 measure Grand Marnier
1-1/2 measure Bourbon
3/4 measure Dry Vermouth
3/4 measure Sweet Vermouth
3 Dashes Angostura Bitters
Orange Zest Twist
Maraschino Cherry Garnish
Place liquids in mixing glass with ice. Stir until thoroughly chilled. Strain into chilled martini glass. Zest fresh orange twist over glass. Garnish with skewered cherry.
Frank Sinatra referred to alcoholic drinks as "gasoline" with his favorites said to be Jack Daniel's Whiskey, Bourbon, Scotch and Gin Martinis. He is quoted as saying, "I may run for the office of president…'Gimme a bottle and a glass and I'll get America off its ass.'"
Dean Martinwas known to drink Gin Martinis and Scotch. Famous quotes: "If you drink, don't drive. Don't even putt," and also "You're not drunk if you can lie on the floor without holding on."
Twitter, Facebook, StumbleUpon – str8upcocktails @ gmail.com – ©2012 Cheri Loughlin-The Intoxicologist, All Rights Reserved. All opinions, reviews and spirits' coverage are the personal opinion and decision of Cheri Loughlin.