This weekend marks the Greatest Spectacle in Racing; The Indianapolis 500.  Millions of Americans will tune in to watch hard core drivers race around the Indianapolis Motor Speedway at dizzying momentum battling to become the next winner to receive the Borg-Warner Trophy and drink milk in Victory Lane as tradition dictates from those who have gone before.  
What you may not know:
Fastest official lap ever at the Speedway: 237.498 mph by Arie Luyendyk, May 12, 1996 during qualifying

Fastest unofficial lap: 239.260 mph by Arie Luyendyk, May 10, 1996 during practice
Keeping pace with the rapid fire speed of the world's best drivers will have you thirsting for more than mere milk.  It's a sure bet you won't want to spend time fiddling with muddling, mixing, and looking for oodles of ingredients to build a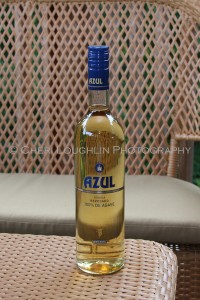 cocktail either.  Reach for simplicity and quick refreshment.  Azul Tequila, the title sponsor of KV Racing Technology's #5 car, proudly starting in Row 3, recommends the Azul Paloma.  The Azul Paloma is so mind-bogglingly thirst-quenching and simple to make you won't miss a second of dizzying, high-speed Indy 500 action.
The Azul Paloma
 1-1/2 measure Azul Reposado Tequila
Citrus Flavored Sparkling Soda
Pour Azul into tall glass full of ice.  Top with citrus soda, stir, and garnish with lime.
*This 100% Blue Agave Reposado delivers premium taste and quality for less than you'd expect.  At $19.99 Azul is a leader in the aged tequila category (#1 in Mexico) and is one of the most attractively priced 100% Blue Agave tequilas available.  Azul is available at fine bars, lounges and liquor stores nationwide. (40% Alc./Vol. – $19.99/750ml). Please drink responsibly. – Azul Tequila
High resolution digital photo downloads are available for brand, cocktail menu creation use and individual use at www.cheriloughlin.com within the StockPhotography category.
Find The Intoxicologist on Twitter, Facebook, StumbleUpon or Email: str8upcocktails@gmail.com – Copyright 2011 Cheri Loughlin – The Intoxicologist – All Rights Reserved – All opinions, reviews and spirits' coverage contained within are the personal opinion and decision of Cheri Loughlin, The Intoxicologist