I don't know about you, but anything with dollops of whipped cream on top feels like decadence just waiting to happen. With Millionaire's coffee the whipped cream topping is just the first layer of luxury. Delve into this rich coffee first thing in the morning and you'll feel like a million bucks all day. Well, until the next cup at least!
March 17 is St. Patrick's Day
Millionaire's Coffee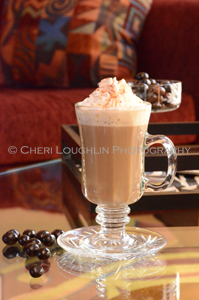 1/2 measure Irish Cream
1/2 measure Coffee Liqueur
1/2 measure Hazelnut Liqueur
Fresh Brewed Coffee
Whipped Cream & Nutmeg Garnish
Place liqueurs in heat resistant mug. Top with fresh brewed coffee. Garnish with whipped cream and sprinkle of nutmeg.
Twitter, Facebook, StumbleUpon – str8upcocktails @ gmail.com – ©2012 Cheri Loughlin-The Intoxicologist, All Rights Reserved. All opinions, reviews and spirits' coverage are the personal opinion and decision of Cheri Loughlin.