When a person finds something they really enjoy there is nothing sadder than the sight of this…an empty bottle
A few months ago a reader walked into a bar and enjoyed an unusually satisfying martini made with JMXO Vodka.  After searching on her own without success she wrote me asking for a true martini recipe using this vodka.  To be perfectly honest, I had not tasted the vodka so I went in search.  Ironically enough, JMXO Vodka polled 100 bartenders on the specifics of the perfect martini.  I wrote up the JMXO perfect martini bartender survey and thought that may be the end of it.  Not so.  My curiosity always gets the better of me.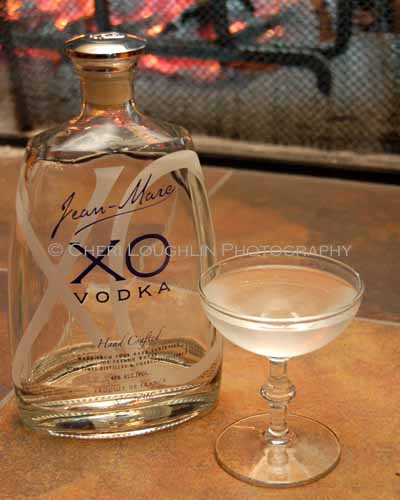 After fruitless searching in my area, I was still fortunate enough to receive a sample.  After taking the advice of 100 bartenders surveyed by JMXO under consideration, I enjoyed my JMXO martini up with a lemon twist, no vermouth.  It really is quite decadent.  If there ever were a vodka to play with over the tongue and warm to the spirit, JMXO is it.  I catch hints of silky coconut rounding out over the back of the tongue in this fullness that overwhelms.  Subtle hints of blanched almonds fill out the flavor with barely there oily nuttiness.  Possible trace amounts of vanilla smooth throughout, warming the senses.  No matter the intricacies of this particular vodka, JMXO truly satisfies the palate, gratifies the soul. 
Savoring this treasure, small ounce and a half to two ounce martinis become the snippet treat now and again.  No longer tainted by even a mere twist of lemon, JMXO lingers long and tempting in the glass without blemish.  It is amazing how long one can draw out miniscule amounts of liquid enticement when the ability to obtain more is tentative at best.  The lesson has taught me JMXO remains exceptional in taste once it begins to warm in the glass as I savor.  The flavors actually begin to heighten and become highlighted rather than sharpen in an obtrusive manner.  I've also learned about the selfish little streak wafting through my body.  I'm usually quite generous with all of my liquor.  While the JMXO bottle sits front and center on my bar shelf, it rarely gets served to guests. 
As the bottle began to empty I kept thinking I should find a source.  Readers write to me all the time asking where to find spirits they treasure.  My first advice is to always ask the liquor store owner/manager they frequent for availability.  Every spirit is not on the shelf, but may be available through the warehouse.   Sometimes I find the spirit they are searching for in their area and other times the availability is online.  JMXO is exclusively available…somewhere.  A quick search rendered nothing immediate except the JMXO site and various reviews. 
The JMXO site features "Poste" where you can type in your name, email and zip code to contact Jean-Marc XO Vodka and find these exclusive locations around the world where JMXO is available.  Trust me, my area does not seem that exclusive, but I gave it a shot.  Within seconds the familiar "ding" of my email rang out and there on my desktop sat an email from Jean-Marc XO Vodka displaying five liquor stores within 14 miles of my home, one of which happened to be within six blocks.  Another lesson learned:  The Intoxicologist should take her own advice and ask the liquor store owner/manager for the treasured spirits she desires.  They are often available. 
My new bottle of JMXO Vodka is sitting on the shelf, but will now be shared. 
Cheri Loughlin is a leading cocktail and photography resource for beverage companies, event planners, businesses and individuals. High resolution cocktail and beverage stock photography images are available in downloadable digital format in the newly redesigned Stock Photography Gallery at www.cheriloughlin.com.
Twitter, Facebook, StumbleUpon – str8upcocktails @ gmail.com – ©2012 Cheri Loughlin-The Intoxicologist, All Rights Reserved. All opinions, reviews and spirits' coverage are the personal opinion and decision of Cheri Loughlin.