Homemade flavored syrups are a terrific way to add unique flavor to cocktails and non-alcoholic drinks. Add syrup to champagne or club soda for a quick and easy tasty treat. This particular syrup goes the extra mile by providing double duty at the breakfast table. Blueberry Lavender Syrup is wonderful drizzled over pancakes and waffles.
Blueberry Lavender Syrup – created by Cheri Loughlin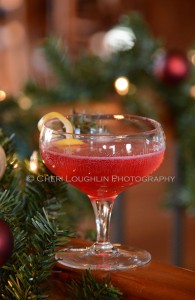 8 cups Sugar
4 cups Water
1 pound fresh or frozen Blueberries
1/2 cup Lavender
Zest & Juice of 1 Lemon
Place all ingredients in saucepan over medium low heat. Stir continually until liquid begins to simmer. Remove from heat. Strain into heat proof container with lid. Store in refrigerator.
Twitter, Facebook, StumbleUpon – str8upcocktails @ gmail.com – ©2012 Cheri Loughlin-The Intoxicologist, All Rights Reserved.