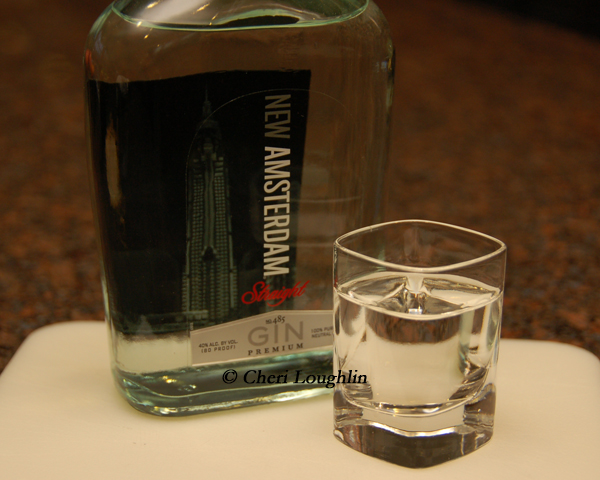 New Amsterdam Gin makes its stand in the gin market with a younger, contemporary crowd. This is a generation of drinkers who may have embraced vodka as a long time favorite, but have been exposed to a new style of gin cocktails through current bartending. The gin takes a relaxed approach in flavor with softer, smoother notes and comes in at a moderate 80 proof. Citrus is foremost rather than harsh, brassy notes of juniper berry.  This approach to gin might not ring well with hard core gin enthusiasts who prefer steadfast gin as it's always been done without change. What New Amsterdam Gin does is bring fresh faces to the gin scene who might otherwise never give the category a second glance.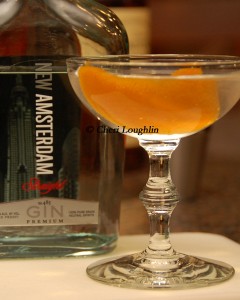 New Amsterdam Straight Gin Tasting Notes
40% alcohol – 80 proof
Aroma: Light. No burn. Citrus. Very faint juniper.
Taste: Citrus. Orange peel. Little heat. Light. Smooth. Medium weight. Slight bitterness which most certainly is the distinct blend of botanicals. Lime essence barely, as in the essential oils from lime peel rather than from the citrus fruit itself.
The New Amsterdam Gin bottle claims this gin is smooth enough to consume straight. By golly I think they are correct!  Would be perfect on the rocks with citrus peel.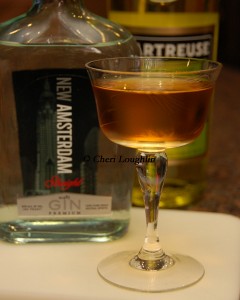 Club
2 ounces Gin
1 ounce Sweet Vermouth
1/4 ounce Yellow Chartreuse
Combine liquids in cocktail shaker with ice. Stir or shake to chill according to preference. Strain into chilled cocktail glass.
Beautiful color. Delightful gentle spice aroma. Soft lilting flavor. Hints of orange touched off by vermouth. Light, barely there sweetness. Lovely sipping cocktail. Soft cinnamon and nutmeg notes.
Browse more Reviews, Gin cocktails and drinks inspired by Classic Cocktails by following the links. High resolution digital photo
downloads are available for brand, cocktail menu creation use and individual use at www.cheriloughlin.com within the Beverages category.
New Amsterdam Gin sample for review courtesy representatives of New Amsterdam Gin. All opinions, reviews and spirits' coverage contained within are the personal opinion and decision of Cheri Loughlin, The Intoxicologist.
Find The Intoxicologist on Twitter, Facebook, StumbleUpon or Email: str8upcocktails@gmail.com – Copyright 2011 Cheri Loughlin – The Intoxicologist – All Rights Reserved