Cool minty freshness intertwined with bittersweet chocolate sends flavorful tingles to the taste buds instantly recognizable as the Peppermint Patty. The spirited cocktail calendar notes February 11, as Peppermint Patty Day. We raise a mug and martini glass in toast to this versatile candy which has been revamped into Girl Scout Cookies, rounds of shots and everything edible in between.
Peppermint Mocha Patty – created by Cheri Loughlin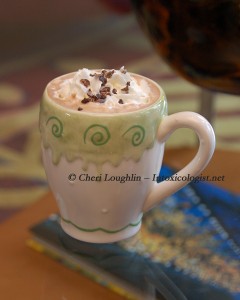 1 package Hot Chocolate
1 ounce Peppermint Schnapps
Fresh Brewed Coffee
Whipped Cream
Chocolate Cacao Nibs or Chocolate Syrup Garnish
Place hot chocolate and hot coffee in heat proof mug. Stir to dissolve. Add peppermint schnapps. Top with dollop of whipped cream garnish. Sprinkle with cacao nibs or swirl chocolate syrup on top of whipped cream according to preference.
Peppermint Patty Polar Freeze – created by Cheri Loughlin
2 ounces Vanilla Vodka
1 ounce Peppermint Schnapps
1 ounce Heavy Cream
3/4 ounce Godiva Chocolate Liqueur
Peppermint Stick Garnish – optional
Place chilled Godiva Chocolate Liqueur in bottom of chilled martini glass. Set aside. Combine vodka, schnapps and heavy cream in cocktail shaker with ice. Shake until completely chilled and frothy. Carefully strain into martini glass as layer over chocolate liqueur. Garnish with optional peppermint stick for stirring if desired.
Cheri Loughlin is a leading cocktail and photography resource for beverage companies, event planners, businesses and individuals. High resolution cocktail and beverage stock photography images are available in downloadable digital format in the newly redesigned Stock Photography Gallery at www.cheriloughlin.com.
Twitter, Facebook, StumbleUpon – str8upcocktails @ gmail.com – ©2012 Cheri Loughlin-The Intoxicologist, All Rights Reserved. All opinions, reviews and spirits' coverage are the personal opinion and decision of Cheri Loughlin.