There's nothing more richly satisfying than coming in from bone chilling temperatures to find a nice warming cup of liquid chocolate waiting to satisfy the taste buds. Wrapping frigid fingers around a steaming hot cup of cocoa feels pretty darn nice, too!  Slip into something darkly decadent, richly rewarding and comfortingly creamy this holiday season.
Jack's Cozy Cocoa
3/4 ounce Jack Daniel's Tennessee Whiskey
Splash of Peppermint Schnapps
Hot cocoa
Whipped Cream
Chocolate Shavings Garnish
Pour Jack Daniel's Tennessee Whiskey and peppermint schnapps into prepared hot cocoa. Add dollop of whipped cream on top. Garnish with chocolate shavings.
Deep Chocolate
1-1/2 ounce Leblon Cachaça
1/2 ounce Jago Cream Liqueur
1/2 ounce Navan
4 ounces Hot Chocolate
Whipped Cream and Chocolate Shavings Garnish
Place Cachaca and liqueurs in large heat proof mug. Add hot chocolate. Stir. Top with whipped cream and chocolate shavings.
Angel's Beso
1-1/2 ounce Gran Centenario Anejo Tequila
Ghiradelli Hot Chocolate
Cocoa Powder for Rim
Warm heat proof goblet by filling with heated water. Empty. Rim goblet with cocoa powder. Add tequila and prepared hot chocolate. Stir and serve.
Hot Chocolate Delight
1-1/2 ounce Basil Hayden's Bourbon
3/4 ounce DeKuyper Hazelnut Liqueur
1/2 ounce DeKuyper Crème de Menthe – green
Hot chocolate
Whipped Cream
Place bourbon and hazelnut liqueur in preheated mug. To with prepared hot chocolate. Top with whipped cream garnish. Drizzle green crème de menthe over top.
Cuppa Good Cheer
1-1/2 ounce SKYY Infusions Cherry
1/2 ounce White Creme de Cacao
4 ounces Hot Chocolate
1 ounce Half and Half
Whipped Cream
Red Sprinkles
Maraschino Cherry
Place vodka and liqueur in large heat resistant mug. Add steaming hot cocoa and half & half. Stir. Top with whipped cream. Add sprinkles. Plop maraschino in middle for a festive holiday hat topper.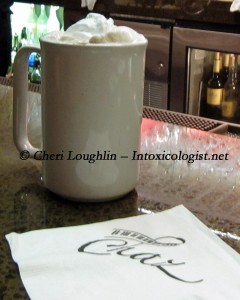 Castries Cocoa
2 ounces Castries Peanut Rum Creme
4 ounces Hot Cocoa
Whipped Cream and Chocolate Sprinkles Garnish
Combine ingredients in a preheated mug.  Top with whipped cream and chocolate sprinkles.  For a twist, add a splash of banana flavored liqueur.
Official Site Tasting Notes:  Milk chocolate flavor with a creamy blend of peanuts.  Add a touch of banana liqueur for a tropical touch.  Indulge on cold winter nights, preferably with a warm body.
Red Hot Chocolate – created by John Ginnetti
1 ounce Campari
2 ounces Brandy
3 ounces Whole Milk
1/2 ounce Heavy Cream
2 tablespoons Dark Chocolate Chips
Hand-cut Marshmallow or Peppermint Stick Garnish
Place milk, cream & chocolate chips in milk frothing cup used for espresso. Froth milk as you would for cappuccino.  When milk is hot remove frothing wand and whisk vigorously until chocolate is completely melted. Add Campari and Brandy.  Pour into large heat resistant mug.  May be garnished with 1 large hand-cut marshmallow or red peppermint stick. Originally served at 116 Crown in New Haven, CT.
Coco Loco
2 ounces Flor de Caña 7-year-old
1/2 ounce Godiva Milk Chocolate Liqueur
Thin slice of Habañero Chili
Dash of Cinnamon
2 teaspoons of Brown Sugar
2 ounces of milk
Grated Pistachios Garnish
Whipped Cream – optional
Place rum, liqueur and milk in small pot set to simmer. Add chili, cinnamon and sugar. Stir continuously until heated. Pour mixture into heat resistant mug. Add whipped cream and grated pistachios garnish.
MexiCabo Hot Chocolate
1-1/2 ounce Cabo Wabo Blanco Tequila
4 ounces Hot Chocolate
1/2 ounce Coffee Liqueur
Whipped Cream
Place tequila and coffee liqueur in large coffee mug. Top with steaming hot prepared cocoa. Stir. Top with dollop of whipped cream.
Cheri Loughlin is a leading cocktail and photography resource for beverage companies, event planners, businesses and individuals. High resolution cocktail and beverage stock photography images are available in downloadable digital format in the newly redesigned Stock Photography Gallery at www.cheriloughlin.com.
Twitter, Facebook, StumbleUpon – str8upcocktails @ gmail.com – ©2012 Cheri Loughlin-The Intoxicologist, All Rights Reserved. All opinions, reviews and spirits' coverage are the personal opinion and decision of Cheri Loughlin.