It stands to reason vermouth is the spirit that carries the flavor of this cocktail. Noilly Prat works exceedingly well with Grand Marnier in picking up flavors of chocolate and orange, something that carries well with the theme of orange bitters and fresh orange zest. Hennessy Cognac comes alive in cocktails with deeper richer flavor in my opinion, so it has been used specifically but definitely use a brandy or cognac you prefer.
Ampersand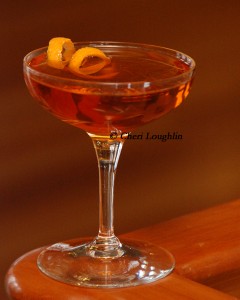 1 ounce Hennessy Cognac VSOP
1 ounce Plymouth Gin
1 ounce Noilly Prat Sweet Vermouth
1/4 ounce Grand Marnier
2 Dash Angostura Bitters
Orange Twist Garnish
Combine liquids in mixing glass with ice. Stir to chill completely. Strain into chilled cocktail glass. Garnish with fresh orange twist.
First taste vermouth washes with a wallop. Not for the faint of heart. Light on orange. Lightly sweet with delectable tell tale signs of bitter orange. Lovely classic cocktail.
The original Ampersand recipe calls for 2 dashes Orange Bitters, 1/3 Brandy, 1/3 Gin, 1/3 Italian Vermouth and 2 dashes Curacao to top. – The Old Waldorf-Astoria Bar Book, A.S. Crockett. It is speculated that this cocktail's name comes from the "&" in Martini & Rossi as the original brand vermouth used. – Difford's Guide
Trivia: "In old schoolbooks the ampersand was printed at the end of the alphabet and thus by 1880s had acquired a slang sense of "posterior, rear end, hindquarters."" – Online Etymology Dictionary
Browse more Classic Cocktails and drink recipes inspired by the classics by following the link. More Gin and Cognac cocktails in post may also be found by following the links. High resolution digital photo downloads are available for brand, cocktail menu creation use and individual
use at www.cheriloughlin.com within the Beverages category.
Find The Intoxicologist on Twitter, Facebook, StumbleUpon or Email: str8upcocktails@gmail.com – Copyright 2011 Cheri Loughlin – The Intoxicologist – All Rights Reserved – All opinions, reviews and spirits' coverage contained within are the personal opinion and decision of Cheri Loughlin, The Intoxicologist