As Hoti, patron saint of fortune tellers and bartenders, advises, "You don't need a good reason to drink.  You just need a good drink."
Pyrat Rum Pistol Tasting
Aroma: Comes across thin with notes of orange and vanilla.
Tasted Neat: Remains thin with slight burn. Definite orange flavor, but not as significant as Pyrat Rum XO Reserve.  Spice noted, possibly hints of cinnamon and clove, but mild rather than deep.  Just the right amount of sweetness to the spirit.  Not particularly my idea of sipping rum.  More of rum on the rocks with squeeze of orange and wee amount of lime possibly or could definitely see this going as a round of shots to start the night rolling.  Pyrat Rum Pistol mixes excellently for definition in cocktails.
Pyrat's Bounty – created by Cheri Loughlin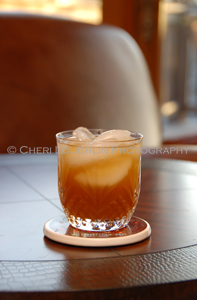 1 measure Pyrat Rum Pistol
3/4 measure Kahlua Especial
1/4 measure Drambuie
1/2 measure Mango Juice
3 dashes Classic Bitters
1 measure Brut Champagne
Combine rum, liqueurs and juice in mixing glass. Stir. Pour into rocks glass over fresh ice. Top with champagne and bitters.
Cheri Loughlin is a leading cocktail and photography resource for beverage companies, event planners, businesses and individuals. High resolution cocktail and beverage stock photography images are available in downloadable digital format in the newly redesigned Stock Photography Gallery at www.cheriloughlin.com.
Twitter, Facebook, StumbleUpon – str8upcocktails @ gmail.com – ©2011 Cheri Loughlin-The Intoxicologist, All Rights Reserved. All opinions, reviews and spirits' coverage are the personal opinion and decision of Cheri Loughlin.