Sipping some spirits straight is fine for a while, but even that can become boring. NUVO Sparkling Liqueur ignites the adventurous spirit within a few creative souls. The pink liqueur often associated with baby showers, bridal parties and Girl's Night Out can also be a bit daring and innovative.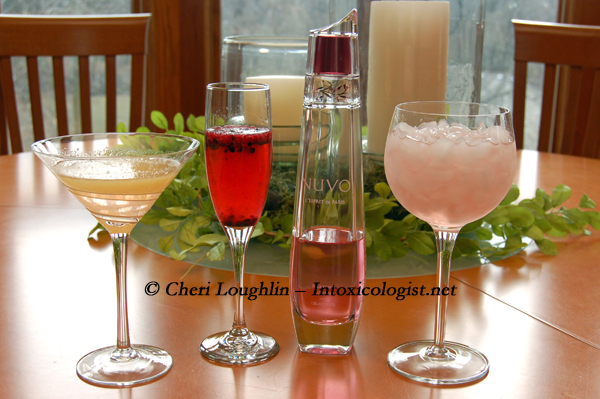 Serve the NUVO Egg Cream with a small dish of berries and this makes one heck of a dessert pairing.
NUVO Egg Cream – created by Tara Wright
1 ounce Frangelico
1 ounce Heavy Cream
2 ounces NUVO Sparkling Liqueur
Strawberry Garnish
Fill a large wine glass with ice.  Add Frangelico and heavy cream.  Fill the glass with chilled NUVO and stir.  Garnish with a strawberry.
Another variation on the classic Cosmo and existing NUVO Sparkling Cosmos, this updated version gears more toward tradition with orange liqueur and lime juice. This is already sweet enough, so don't substitute Rose's Lime Juice. Fresh lime adds a dimension that you can only get by adding fresh ingredients.
NUVO Sparkling Cosmo – Updated
2 ounces NUVO Sparkling Liqueur
1/2 ounce Grand Marnier
1/2 to 3/4 ounce Fresh Lime Juice
Lime Slice Garnish
Place Grand Marnier and juice in cocktail shaker with ice. Shake to chill. Strain into chilled martini glass. Top with chilled NUVO Sparkling Liqueur. Stir. Garnish with lime slice.
Abokado in Miama, FL, took the idea of the NUVO Dream and reinvented it into their own dream concoction.  This cocktail layers St-Germain, NUVO and sparkling wine together with fresh fruit juices.  The result is a beautiful, chilled, lightly flavored cocktail to refresh the senses.
NUVO-Dream (Abokado Style)
Slice of Orange
Sliced Strawberry
1 ounce St-Germain Liqueur
2 ounces NUVO Sparkling Liqueur
3-1/2 ounces Cava Sparkling Wine
Four Ice Cubes
Squeeze the orange slice and drop into a chilled champagne flute.  Add four ice cubes and one sliced strawberry.  Pour in St-Germain, and NUVO.  Top off with Cava Sparkling Wine.
This cocktail was engineered on the fly at one of the NUVO launch parties.  As with scores of mixed drinks free flowing at bars and cocktail lounges, only a handful of cocktails are actually creatively unique and may be pinpointed to one individual as the originator of the idea.  For those of you already trying this; excellent!
Nuevo
1-1/2 ounce Don Julio Tequila
3-4 ounces NUVO Sparkling Liqueur
Squeeze of Fresh Lime
Combine over rocks and stir gently.
Twitter, Facebook, StumbleUpon – str8upcocktails @ gmail.com – ©2012 Cheri Loughlin-The Intoxicologist, All Rights Reserved. All opinions, reviews and spirits' coverage are the personal opinion and decision of Cheri Loughlin.