Averna has a rich heritage beginning with Benedictine friars, honors bestowed by kings and the proud privilege to be identified as Sicily's first licensed spirit.  Today the company, Fratelli Averna S.p.A., is run by the fourth generation of the Averna family and now includes the Friulian winery Villa Frattina and Piedmont confectioner Pernigotti.  By remaining firm to the traditions in which it was founded, Averna has grown and remained the number one spirit brand in Italy and leading Italian Amaro in markets around the world.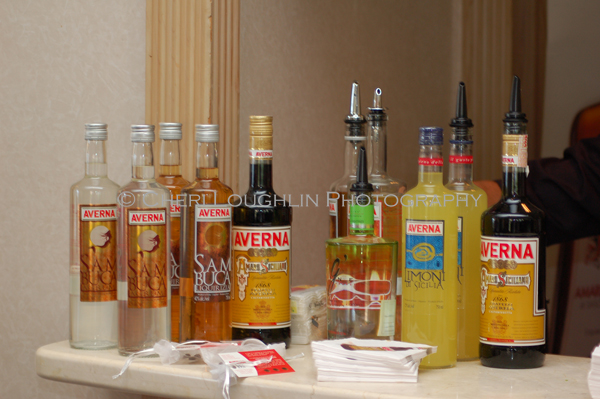 What is this Averna Amaro?  Simply; an after-dinner drink or digestivo.  However, there is nothing simple about this complex liqueur.  Averna is a complex spirit distilled from a delicate balance of flowers, herbs, dried fruits, spices and licorice with a touch of caramel.  This produces a full-bodied, bitter sweet finish to the taste buds.  Despite its classification as a digestivo, this liqueur is anything but. 
I tried the Averna four ways:  traditionally on the rocks, in Duggan McDonnell's signature cocktail the Vertigo, and in two more cocktails supplied by the company; the Intercontinental and Sicilian Triangle. 
Averna on the rocks is a delicious blend of botanicals, luxuriantly textured and pleasantly composed which leave a unique balance of smooth bitter sweetness in its finish on the palate.  My experiences with after-dinner digestivos thus far have not had the polish in completion that Averna has mastered.  This is a beautifully, full bodied, complex sipping spirit. 
Vertigo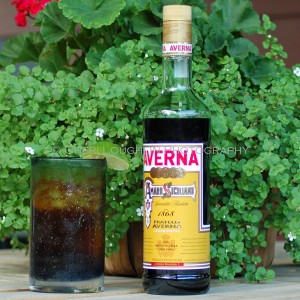 1/2 measure Lemon Juice
Ginger Ale
2 measures Averna
Lime Wedge for Garnish
Stir lemon juice and ginger ale over ice in a highball glass leaving room for Averna.  Float Averna and garnish with a lime wedge.
The Vertigo is a refreshing highball drink made with ginger ale and a splash of lemon juice.  At first sip I thought it was average, but I built the drink in incorrect order and forgot to slip in a stir stick.  The Averna is a heavy aperitif, so it stays at the bottom of the glass if it is added first and time is not taken to gently stir.  My second sip was absolutely delightful.  There is a reason this is Duggan McDonnell's signature cocktail.  The ginger ale is light enough to allow the Averna all of the glory in this drink with the perfect balance of lemon to give it that spring/summer feel. 
Intercontinental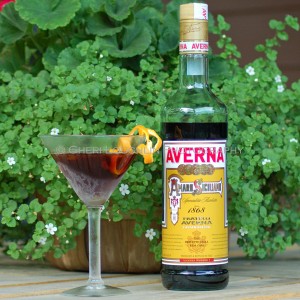 1 measure Averna
1 measure Cognac
1/2 measure Maraschino Liqueur
Orange Twist for Garnish
Combine all ingredients in a shaker and stir 30 times over ice.  Strain into cocktail glass and garnish with an orange twist.  (This one is a bit sweet.  Try adding a quarter ounce of lemon juice for tart or decrease the maraschino liqueur.  This is an excellent cocktail to tweak to your liking.)
The Intercontinental caught my eye in the recipe listings due to its use of maraschino liqueur and cognac.  The most common cocktail reference for maraschino liqueur is the Papa Doble or Hemingway Daiquiri.  A delicious cocktail if you have not tried one.  The intercontinental is very rich in color but comes across entirely too sweet for my tastes.  Possibly if some lemon juice were added to lend some tartness to the cocktail this could be cured.  I am not sure.  However, the Averna shines through magnificently and the maraschino liqueur is a perfect addition.  They both blend together well on the palate.  My thought is there are more cocktails to be rendered from the Averna and maraschino matchmaking. 
Sicilian Triangle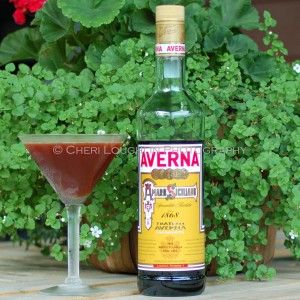 2 measures Averna
1 measure White Rum
1 measure Pomegranate Juice
1/2 measure Orange Juice
1/2 measure Lemon Juice
Splash of Pineapple Juice
Pineapple Wedge for Garnish
Combine all ingredients into a cocktail shaker and shake vigorously over ice.  Strain into a cocktail glass and garnish with a pineapple wedge. (I used approximately 1/4 ounce of pineapple juice or less as a splash.)
For a bit of exotic, tropical fun the Sicilian Triangle is a must try on anyone's Averna cocktail list.  It has a mix of rum and fruit juices along with the Averna to stir up good times.  With such a diverse blend of flavoring to this cocktail I was a little undecided as to whether the Averna would be able to hold its own in the drink.  With the first sip, pineapple is the primary flavor tasted.  Given only a moment, the lone pineapple flavor disappears leaving the real flavor of the cocktail to linger on the palate.  Once again, the Averna displays its true character throughout, leaving a well rounded mixed drink to enjoy in true Sicilian style.
Left to stand alone and sip or to rise above the rest in a cocktail glass, Averna definitely leaves its unique stamp on the spirit world.  With the unique flavor profile of this particular bitter sweet aperitif and its exceptional mixability, it is understandable how Averna has stood the test of time through four generations and is still the leading favorite Amaro of Italy.
Twitter, Facebook, StumbleUpon – str8upcocktails @ gmail.com – ©2011 Cheri Loughlin-The Intoxicologist, All Rights Reserved. All opinions, reviews and spirits' coverage are the personal opinion and decision of Cheri Loughlin.