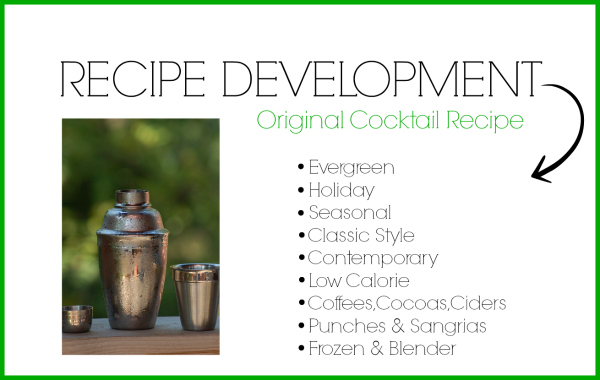 Cheri Loughlin is a leading cocktail and beverage resource for businesses and individuals looking for the ideal recipe for an event, special occasion or weekend relaxation. She has created recipes for liquor companies with new product launches and website use. Her recipes can be found on shelf talker cards in liquor stores and grocery stores.
Cheri creates signature cocktails and non-alcoholic drinks for individual and commercial use. Her original creations are available for print and website use, advertising campaigns, placement on bar and restaurant menus, and for use at specialty events such as weddings and charity events.
Recipes are specifically designed with the brand's vision or venue's atmosphere and clientele in mind. It is imperative that the brand consumer or venue clientele experience the best tasting drink possible.
Her idea of the ideal drink is one that consumers can easily make at home for personal use or for entertaining with minimal effort and basic kitchen or bar skills. Ingredients should be affordable and easy to find locally. Three to five ingredient drinks are ideal for novice home bartenders. Minimal ingredients with maximum flavor is also ideal for bar and restaurant for speed of service and quality control.
See a list of Past & Present Clients by clicking the link.
Are you a brand or business in search of original cocktail recipes created with the distinct flavor profile offered by your brand? Do you need new recipe development for your new product launch? Does your website need a fresh batch of recipes to quench consumer thirst? Let's work together to bring your brand vision to completion.
Contact me at str8upcocktails [at] gmail.com for more information. I look forward to chatting with you and take part in bringing your vision to life.
Subscribe to the monthly Newsletter
All content ©2015 Cheri Loughlin, The Intoxicologist. All Rights Reserved. Chat with Cheri @Intoxicologist on Twitter and facebook.com/Intoxicologist