Certainly there are those that cringe when wine cocktails conversation is brought to the table. There are those who believe wine should be placed from bottle to glass or bottle to decanter to glass only rather than come in contact with any other mixer. However, dabbling with concoctions of wine, spirits and simple mixers has been going on for years. In fact, making wine into lemonade is actually a classic cocktail! This classic cocktail possibly dates back to the 1800's with many variations.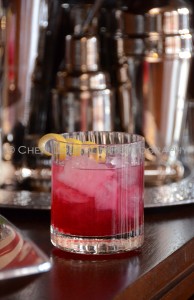 Claret Lemonade
3 measures Claret*
3 measures Water
2 teaspoons Fine Sugar*
Juice of 1 Lemon*
Combine all ingredients in cocktail shaker with ice. Shake to blend and chill. Strain into Collins glass.
*May use a Bordeaux style red wine in place of Claret.
*Substitute the 2 teaspoons Fine Sugar for 2 to 3 teaspoons Simple Syrup according to preference (3 teaspoons syrup = 2 teaspoons sugar + 1 teaspoon water)
*Medium Lemon yields 2 to 3 Tablespoons fresh juice; Large Lemon yields 3 to 4 Tablespoons fresh juice – start with 2 tablespoons and add juice according to taste preference.
Cheri Loughlin is a leading cocktail and photography resource for beverage companies, event planners, businesses and individuals. High resolution cocktail and beverage stock photography images are available in downloadable digital format in the newly redesigned Stock Photography Gallery at www.cheriloughlin.com.
Twitter, Facebook, StumbleUpon – str8upcocktails @ gmail.com – ©2012 Cheri Loughlin-The Intoxicologist, All Rights Reserved. All opinions, reviews and spirits' coverage are the personal opinion and decision of Cheri Loughlin.