There's a shot for everything and that includes humoring the funny bone, sugaring the sweet tooth and getting wasted within seconds. This one captures the attention by name (I didn't name it by the way), messes one up if taken in rapid succession, but makes a terrific sipping drink if allowed to mellow out over time. Please use discretion when choosing your method of consumption.
Russian Fucker Shooter Recipe
Russian Fucker Shooter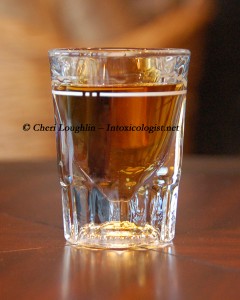 1/2 ounce Vodka
1/2 ounce Amaretto
1/2 ounce Canadian Whisky
Combine liquids in cocktail shaker with ice. Shake to blend and chill. Strain into shot glass. Serve and shoot ice cold.
For those of you who prefer sipping over shooting, this makes an excelling drink for relaxing at the end of the day. Serve this on the rocks, neat or shake it up over ice to chill and aerate and serve in rocks glass without ice for smooth sipping.
Level Headed Russian Fucker Drink Recipe
Level Headed Russian Fucker – recipe adapted by Cheri Loughlin, The Intoxicologist
1 ounce Vodka
1 ounce Amaretto
1 ounce Canadian Whisky
Orange Peel Garnish
Combine liquids in cocktail shaker with ice. Shake or stir to blend and chill. Strain into rocks glass over fresh ice.
Next time you run across a shot or shooter you think sounds like something you might want to actually taste rather than throw back, try it out shaken over ice and strained in a cocktail glass or poured over ice in a rocks glass. You might be surprised that the shot tastes a lot better at a slower pace than you thought. Then again, I've seen some of those shots….Some of them are aptly named like Toxic Waste, Nuclear Spill, and even a Dirty Ashtray. No thanks.
All content ©2012 Cheri Loughlin, The Intoxicologist. All Rights Reserved. Chat with Cheri @Intoxicologist on Twitter and facebook.com/Intoxicologist or str8upcocktails@gmail.com