The simplicity and style of the South Side Fizz provided inspiration for Belle of the Boulevard. Non-alcoholic drinks need something more than one dimensional flavor otherwise mere bottled juice poured into a glass would suffice as 'Mocktail.' Cucumber and mint weave the spirit of fresh into the drink while lemony sour combined with hint of sweet provide zing to this sparkling spring drink.
Belle of the Boulevard – created by Cheri Loughlin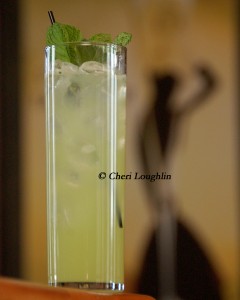 1 Baby Cucumber – Sliced
2 Mint Sprigs
1 ounce Lemon Juice
1/4 ounce Simple Syrup
1/2 ounce Homemade Lemon Lime Sour*
3 to 4 ounces Club Soda
Mint Sprig Garnish
Muddle sliced baby cucumber, mint sprigs and lemon juice in cocktail shaker. Add simple syrup, lemon lime sour and one ounce of club soda with ice. Shake to blend. Strain into highball glass over fresh ice. Top with remaining club soda. Stir. Garnish with mint sprig.
*Lemon Lime Sour
2 cups Sugar
1/2 cup Fresh Lemon Juice
1/2 cup Fresh Lime Juice
Place all ingredients in sauce pan over medium low heat. Stir continually until sugar is dissolved and liquid is on the brink of soft simmer. Remove from heat. Allow to cool completely. Place in covered glass storage container. Refrigerate. Notation: Lemon Lime Sour is sometimes referred to as Homemade Sour.
Find The Intoxicologist on Twitter, Facebook, StumbleUpon or Email: str8upcocktails@gmail.com – Copyright 2011 Cheri Loughlin – The Intoxicologist – All Rights Reserved – All opinions, reviews and spirits' coverage contained within are the personal opinion and decision of Cheri Loughlin, The Intoxicologist