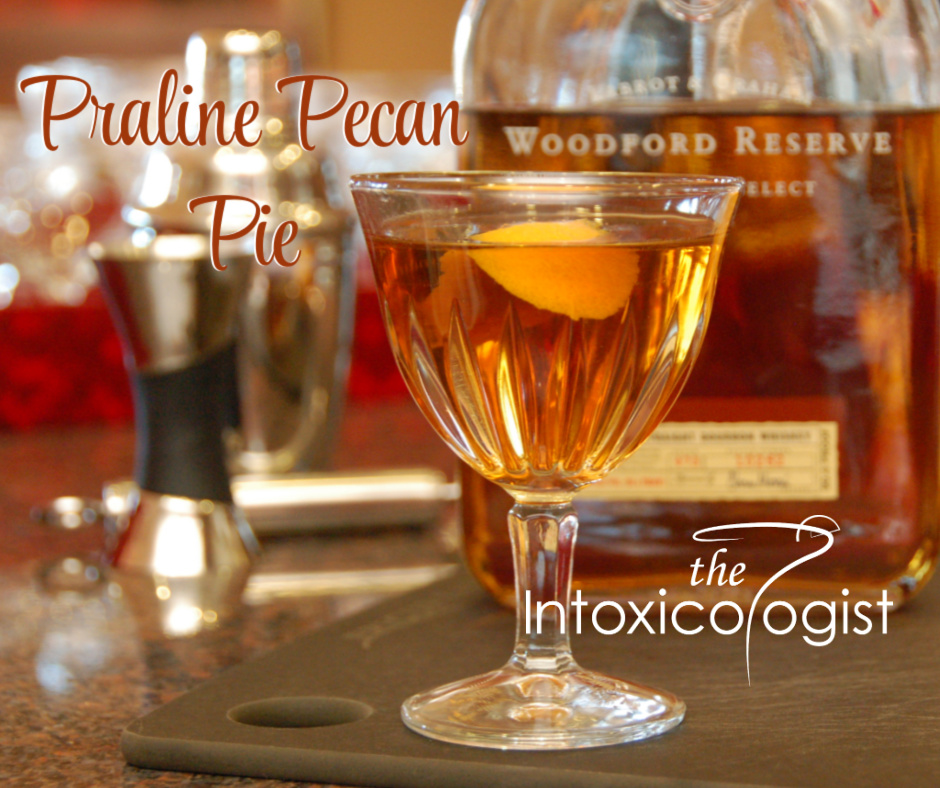 I first created the Praline Pecan Pie cocktail in 2010 when I visited the Woodford Reserve Distillery for a media event. I had a blast touring the property. If you ever get the chance to visit the distillery for a tour, I highly recommend it. It's fun, informative, and oh, so tasty. If you'd like to read a few takeaways from that tour, including the fun little cocktail competition where this cocktail was born, read Tasting & Mingling Flavors and Sampling a Masterpiece.
I'm sharing the recipe separate from those posts today as a little update and because July 12 is Pecan Pie Day. What better way to celebrate than with a cocktail. Don't worry, this cocktail isn't cloyingly sweet like a slice of sticky, gooey, sweet pecan pie. This cocktail is basically a riff on a Manhattan classic cocktail. It's a sip of dessert with a full, lush flavor that stays true to Woodford Reserve's signature taste. It's warm with a hint of spice. But don't leave off the orange twist garnish. It gives this drink a tiny burst of freshness that's much more than a garnish for looks alone.
You'll need a few essentials outside of the bourbon, because good bourbon is a given. Use a quality red vermouth. I like Carpano Antica Formula and Dolin. I used Martini & Rossi Sweet Vermouth in the original recipe, but think Carpano is a much better choice for its richness. You'll also need a pecan liqueur or pecan syrup at bare minimum. There are a few pecan liqueurs on the market, but it you can't find it locally, you can use Torani Butter Pecan syrup in a pinch. Angostura Aromatic Bitters original formula work best in this cocktail in my opinion. I love the hint of spice it adds to the drink.
If you've poked around the Intoxicologist website much, you'll know I'm a huge glassware fan. I have cupboards full of them for business and personal use. I get a lot of my stemware at resale shops and estate sales, but I like to snoop around the internet for fun glassware that add class to happy hour without having to go to a fancy speakeasy bar. I'm particularly fond of coupe glasses for their shape, but also the stem length. I'm a klutz and have knocked over my fair share of glassware through the years. Another beneficial feature of coupe glassware is they photograph well. I take a lot of cocktail photos for the companies I work for and the right glass makes all the difference in the world when you're using a photo for social media. Find your favorite stemware and have fun mixing drinks!
Let's get to the drinking part.
Praline Pecan Pie – Cheri Loughlin original recipe
2 ounces Woodford Reserve Bourbon
1/2 ounce Red Vermouth
1/4 to 1/2 ounce Praline Pecan Liqueur
2 to 3 dashes Angostura Bitters
Freshly Zested Orange Twist
Place liquid ingredients into a cocktail shaker with ice. Shake or strain according to preference. Strain into a chilled cocktail glass. Garnish with a freshly zest orange peel.
All content ©2022 Cheri Loughlin, The Intoxicologist. All Rights Reserved. Chat with Cheri at facebook.com/Intoxicologist