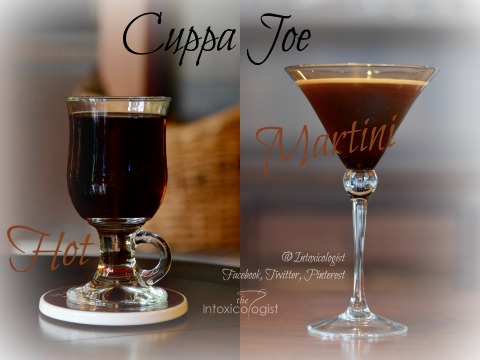 This martini certainly fits the easy category with only three ingredients. Delicious, too. But there are more ways to make this martini even better year round. Theoretically the Cuppa Joe Martini could be changed up into a hot Cuppa Joe by substituting cold espresso for fresh hot espresso or fresh brewed coffee. Skip the lemon twist and add a dash of cinnamon and nutmeg to the hot brew and you'll have a satisfying cup of warm bliss.
Cuppa Joe Martini Recipe
Cuppa Joe Martini
3/4 ounce Vodka
3/4 ounce Hazelnut Liqueur
1 ounce Cold Espresso
Lemon Twist
Combine liquids in a cocktail shaker with ice. Shake until well chilled. Strain into a chilled martini glass. Garnish with fresh lemon twist.
Hot Cuppa Joe Recipe
Hot Cuppa Joe – adapted by Cheri Loughlin
3/4 ounce Vodka
3/4 ounce Hazelnut Liqueur
1 ounce Fresh Espresso or 4 ounces Fresh Brewed Coffee
Cinnamon and Nutmeg
Add vodka and liqueur to heat resistant cup. Top with hot espresso or hot coffee. Sprinkle cinnamon and nutmeg on top.
Try this with caramel vodka, chocolate vodka or espresso vodka. Use a double shot of espresso for stronger flavor and 1-1/4 ounce hazelnut liqueur for a little more sweet.
Subscribe to the monthly Newsletter
All content ©2014 Cheri Loughlin, The Intoxicologist. All Rights Reserved. Chat with Cheri @Intoxicologist on Twitter and facebook.com/Intoxicologist