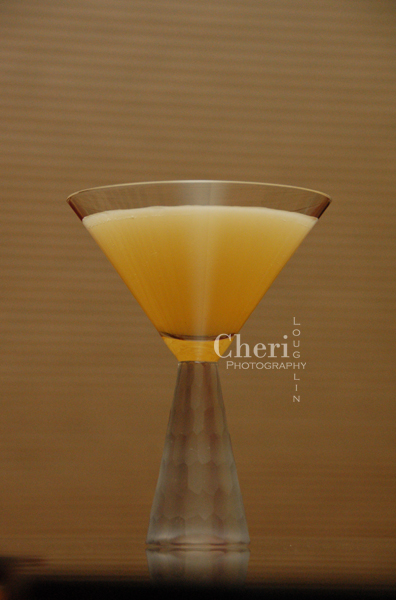 Blooming Jasmine takes advantage of the very popular elderflower liqueur. Elderflower liqueur has a lilting sweetness that thrives in cocktails. Blooming Jasmine is also versatile according to your preference. Make the base cocktail and enjoy as is. Or add sparking sake to thin out the sweet with a little drying touch on top. If you love champagne as much as I do, you might prefer a little bubbly topper. Add a little simple syrup to the base ingredients of Blooming Jasmine and then top with brut champagne for a stunning variation. It's all up to you!
Blooming Jasmine Cocktail Recipe
Blooming Jasmine – recipe by Cheri Loughlin, The Intoxicologist
3/4 ounce Cruzan Mango Rum
3/4 ounce Cruzan Aged Light Rum
3/4 ounce St-Germain Elderflower Liqueur
3 ounce Jasmine Tea – prepare as directed below
1-1/2 ounce Guava Juice
Tea preparation: Use double the amount of tea bags and double the amount of time directed on the package for making tea. For example, use 2 tea bags for 6 ounces of water and steep for 10 minutes instead of 5 minutes. Make sure to squeeze the water out of the tea bags after steeping to get all the tea goodness out of the bags and into the tea water. Allow tea to cool before use.
Cocktail preparation: Combine rums, liqueur, tea and guava juice in a cocktail shaker with ice. Shake to blend and chill. Strain into a chilled martini glass. Enjoy as is or top with the following.
***Add 1-1/2 ounce Zipang Sparkling Sake to top for a little less sweet and hint of drying in the bubbles.
***If adding brut champagne, add 1/2 ounce simple syrup to the mixture in the cocktail shaker before straining into the martini glass. Top with 1-1/2 ounce brut champagne for a bubbly sweeter version.
The Blooming Jasmine cocktail recipe was commissioned by representatives of Beam Global Premium Spirits Brands as part of the Corporate Mixology program offered by Cheri Loughlin, The Intoxicologist. Find more recipes created by Cheri Loughlin using Beam Global brands on this site. Visit the Cruzan Rum website and follow Cruzan Rum on Facebook.
All content ©2013 Cheri Loughlin, The Intoxicologist. All Rights Reserved. Chat with Cheri @Intoxicologist on Twitter and facebook.com/Intoxicologist or str8upcocktails@gmail.com