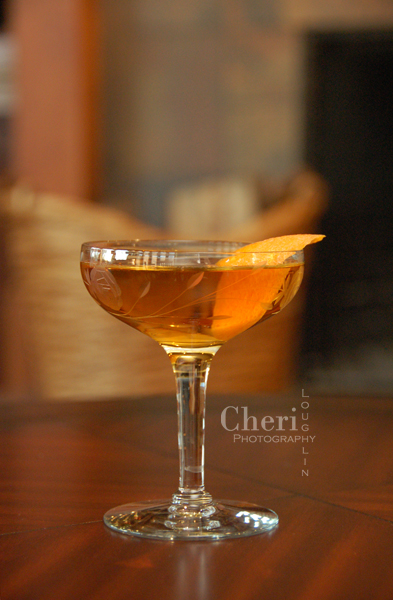 The original Bamboo classic cocktail was created by Louis Eppinger in Japan in the 1890s. It gained popularity in the 1940s, but is rarely found on cocktail menus in modern times. Perhaps that is because this cocktail is an acquired taste.
Bamboo Recipe Variations
Many wine-based cocktails are rather sweet and deeply rich. Not this cocktail. It uses dry sherry along with dry vermouth. Fino sherry is recommended due to its drying nature.
The original Bamboo consisted of equal parts sherry and dry vermouth with both bitters. Some versions call for sweet vermouth and dry vermouth. Others include Cointreau or Grand Marnier for a hint of sweetness. Trader Vic's Bartender's Guide includes green olive as garnish.
Bamboo Cocktail Recipe
The Bamboo makes a terrific aperitif cocktail. Its flavor leans more toward dry charm with little to no sweet satisfaction. Think of it as a first course cocktail to be followed by more sherry based drinks. Serve alongside a plate of rich cheeses, nuts and olives.
Bamboo
1-1/2 ounce Dry Sherry (Fino)
3/4 ounce Dry Vermouth
2 dashes Orange Bitters
2 dashes Angostura Bitters
Orange or Lemon Twist
Place liquids and bitters in mixing glass with ice. Stir to chill. Strain into chilled cocktail glass. Garnish with orange twist.
Suggested measurement if adding sweet vermouth: 3/4 ounce. This makes the Bamboo "perfect" as in balanced dry to sweet.
Suggested measurement if adding Cointreau or Grand Marnier: 1/4 ounce for just a hint of lush richness without adding too much sweet.
What is Fino Sherry?
Fino, meaning "refined" in Spanish, is a special fortified wine. It is pale in color with sharp flavor. It is light on the palate with dry finish, delicate texture and complexity. Fino is the drier than typical Sherry varieties. Fino Sherry is lovely accompanied with foods such as light flavored fish, shellfish, and marcona almonds to name a few.
Fino Sherry is fortified with neutral spirits to bring the alcohol content to 15 percent. Fifteen percent is the minimum alcohol content allowed for Fino. Fortification is also used to destroy all hints of yeast used during the production process.
Subscribe to the monthly Newsletter
All content ©2016 Cheri Loughlin, The Intoxicologist. All Rights Reserved. Chat with Cheri @Intoxicologist on Twitter and facebook.com/Intoxicologist
Cheri Loughlin is the Omaha writer and photographer behind www.intoxicologist.net and author of Cocktails with a Tryst: An Affair with Mixology and Seduction. You can email Cheri with comments and questions at str8upcocktails@gmail.com.