For those celebrating Valentine's Day as a single's event… Cheers!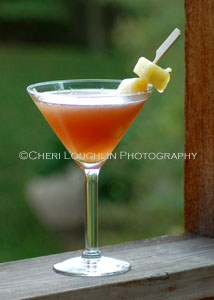 Lady of Leisure Cocktail Recipe
Lady of Leisure
1 ounce Gin
1/2 ounce Raspberry Liqueur
1/2 ounce Premium Orange Liqueur
1/4 ounce Lemon Juice
1 ounce Pineapple Juice
Orange Zest Twist
Combine liquids in cocktail shaker with ice. Shake to blend and chill. Strain into chilled cocktail glass.
Subscribe to the monthly Newsletter
All content ©2015 Cheri Loughlin, The Intoxicologist. All Rights Reserved. Chat with Cheri @Intoxicologist on Twitter and facebook.com/Intoxicologist