Available Now!
Click the links to order the eBook for Kindle, Nook, or iTunes.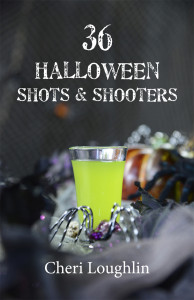 36 Halloween Shots & Shooters eBook contains 36 original, adapted and popular shots ideal for scaring up a devilish Halloween party. A full color photo of the exact drink is included with every recipe.
Photography and text: Cheri Loughlin
These potent flavor poppers aren't just for the young. Shots are for those who shoot for the moon, love to explore, are creative, playful and want to dance the night away, not just dance on tables. Shots and shooters are mini sip-sized portions of full-sized cocktails. Halloween is the perfect time to incorporate a tasting party shot of fun into your holiday monster bash. Instead of bobbing for apples, mix up a batch of mouthwatering Poison Apples or Spiked Caramel Apples. Don't have time to bake pie for a party of twenty or thirty? No problem. Shake, sip and savor a round or two of To Die for Pumpkin Pie shots. Learn how to keep an eye on party guests with the gruesomely fun layered Eyeball shot. It's scary delicious!
Conjure up the mad scientist in you and start mixing!
Return to Main Books Menu