Every football team, player and sports fan has a tradition or ritual they perform before the season begins or the start of every game.  Perhaps it's never washing a favorite jersey, consuming the same pregame meal or beginning with a spirited pep talk.  Whatever your pre-game warm-up tradition is, a sure way to get the party started is with the Pigskin Shooter.
Pigskin Shooter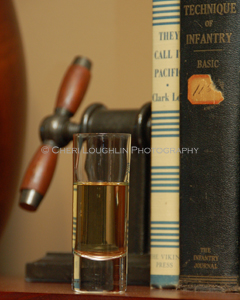 1 measure Vodka
1 measure Melon Liqueur
1 measure Sour Mix
Place liquids in cocktail shaker with ice. Shake to blend and chill. Strain into chilled shot glass.
Cheri Loughlin is a leading cocktail and photography resource for beverage companies, event planners, businesses and individuals. High resolution cocktail and beverage stock photography images are available in downloadable digital format in the newly redesigned Stock Photography Gallery at www.cheriloughlin.com.
Twitter, Facebook, StumbleUpon – str8upcocktails @ gmail.com – ©2012 Cheri Loughlin-The Intoxicologist, All Rights Reserved. All opinions, reviews and spirits' coverage are the personal opinion and decision of Cheri Loughlin.